Custom Umbrellas Will Keep Your Brand On Top Of Mind Round The Year!
Rain or shine, nothing can ruin your day thanks to these compact umbrellas that will give you a reason to cheer about. For marketers custom umbrellas will make a high visibility gift that will keep their recipients safe from adverse weather elements and put their brand on top of their minds. Offered in a range of models including small and compact models that fit in purses and backpacks, umbrellas will make sure that your employees and customers are never caught off guard by an unexpected cloudburst! Browse our selection by price, color and size to choose a model that suits you the best.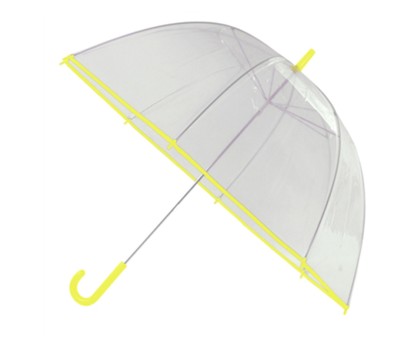 Folding umbrellas make a convenient weather wear item as your recipients can carry these items wherever they go. Every time your recipients open their umbrellas, your brand and message on these will get a lot of attention while your clients and employees will feel really appreciated with these sensible gifts that are of incredible use to them all round the year.
As corporate gifts
Make your team feel brand pride and happy all year round by handing out this high utility gift that will never fail to please them. Be it during golf weekends, picnics or daily commute, custom umbrellas will get a lot of attention and appreciation. Apart from keeping them safe from bad weather, these logo items will enhance their style as well during holiday snap shoot sessions and fun gatherings. Offered in a range of colors and prints, these logo items will match every dressing style and color themes as well.  A stylish umbrella will make a great talking topic in social circles of your recipients and your message will reach a wider secondary audience in no time.
Tradeshow handouts
Umbrellas make great tradeshow handouts that everyone will love. Handy and light weight models like tote umbrellas will make a perfect choice to consider. Your brand and message on these will get a lot of exposure in the crowded tradeshow venues. Custom umbrellas will let the marketers to open themselves up to ensure increased brand exposure in a subtle manner.
Game prizes
Holidays make a great time for marketers to organize raffle games and fun contests in their stores to enhance their brand popularity. Choose interesting models like bubble umbrellas that will make a delightful addition to the umbrella collection of everyone or Mini Pencil Umbrellas that can easily fit into a purse or a tote. It has an enviably slim design and lightweight feature and when closed these custom mini umbrellas will measure just 8 inches long
Share your experiences of using custom umbrellas as your promotional items with us at our facebook page and join the conversation.