Custom Wedding Umbrellas- Must- Have Accessories For The Outdoor Wedding Season
Today, the traditional black umbrellas are not the only choice to consider for the wedding day. In fact it is not even a choice for most couples! Explore the countless innovative models of umbrellas that add new twists on the traditional version.  If you have an outdoor wedding plan on cards, here are some tips on the trending wedding umbrellas that should go into your shopping list!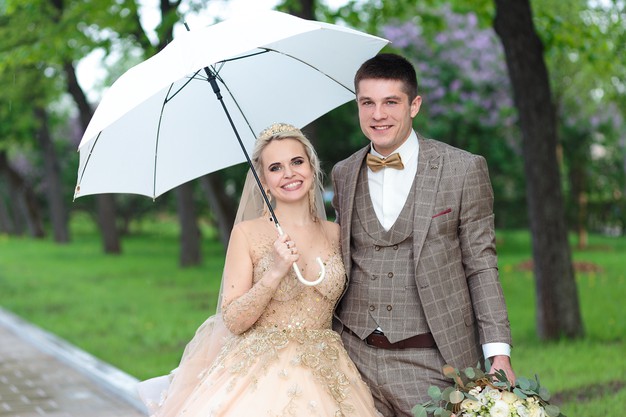 Bubble umbrellas are definitely considered as a fashion accessory during the rainy season. The transparent canopy that will give the users a cutting edge advantage of seeing the sky and the rain soaked nature around while staying dry. In addition the dome shaped canopy will shield the users from rain lashing at any angle and ensure better protection and coverage.
 While an umbrella is basically used as a protection in the unpredictable weather conditions, a bridal parasol is much more than that. It is one of the most important accessories for your wedding day. No matter whether you are a game of a Victorian themed wedding or a beach wedding, you can find the perfect umbrella that will meet your needs.
Wedding umbrellas are simply umbrellas that are designed for bridal use. However, you can even turn it into wedding day gifts for your guests by customizing it with your wedding  message or artwork. Your guests will indeed find this umbrellas a gift  of a high perceived value and cherish it for a long time.
Transparent umbrellas are one of the most popular models in wedding umbrellas. A perfect addition to the bridal dressing style, these umbrellas will also double up as photo props and creative table center pieces. Check out these bubble umbrellas with contrast fabric borders, which will go well with the color theme of the wedding day and add a pop of color to the plain canopy. It is a great choice for any outdoor wedding ceremony though, as it is sure to look great and come in handy if a bit of rain happens to occur.
Did we say that wedding umbrellas look lovely in snapshots and add a dramatic appeal to wedding portrait background. Some brides even swap their floral bouquets for an elegant parasol, which is reusable and come handy in the post  wedding photo sessions or even during the honeymoon in a tropical beach destination!
How do you think wedding umbrellas changed the tone of your wedding day? Share your thoughts with us on our facebook page