Flashlight Umbrella-Let The Brand Shine
If you find it hard to come up with new  promotional products that will boost your brand visibility while impressing the clients, check out these innovative flashlight umbrellas. 
Custom flashlight umbrellas beat the odds and are fun and innovative. Bringing together the dual utility of  flashlight and an umbrella , these unique umbrella models ensure a new perspective to your marketing campaign.
Who doesn't like get umbrellas as gifts afterall? This custom umbrella is a normal, foldable model but with a flashlight at the base of the handle. Available in several colors, it will indeed set a perfect backdrop for your brand and message. The best part is that every time your recipients reach out to this umbrella to stay safe from elements or to light up their way, they will be promoting your brand.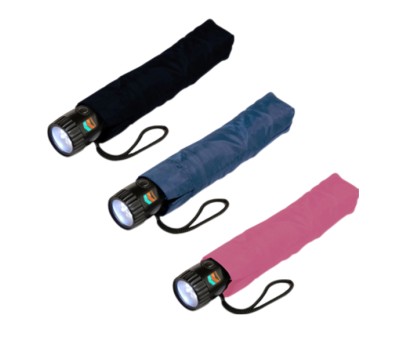 Here are some more solid reasons that make flashlight umbrellas a perfect swag
 High Retention
Further, Flashlight umbrellas are a very useful product that everyone needs. Because  of the added advantage of a flashlight, this model turns out to be truly unique. Thus  whenever customers use it, they will remember the brand they got it from.
Drive up  Sales
 Your marketing message printed on the wide canopy of these umbrellas will get easy attention of people around. It will even make it a great talking topic in the social circle of your recipients. The innovative design of this umbrella will inspire the audience to flaunt it wherever they go. Let's be frank about it. Using such innovative products is a great way to boost sales.
Draws Customers
Promoting your  brand with such an unusual and colorful umbrella will definitely attract the attention of more customers.
Easy to customize
What is especially great about this umbrella is  that it is easy to customize. The brilliantly colored umbrella canopy can be made use of  to highlight your brand and message. Thus the display will not be overbearing though it will gain instant  consumer attention. This in turn will make it much more likely for other people to take note of your brand.
Engaging
These umbrellas are not only meant to advertise your product, but sell your brand to prospective customers as well. So, if enhancing brand awareness is the top priority of your business campaign, look no further than these umbrellas that are hard to resist.Take your outdoor branding a notch higher with custom umbrella handouts.
If you're interested in this marketing handout , feel free to contact us. We can walk you through the whole process of choosing the right model and customizing it to suit your promotional theme. Happy shopping!