Interesting Models in Custom Umbrellas
Umbrellas make value added promotional giveaways to  thank your clients and customers, appreciate employees or even make new leads.
If you wish to  reinforce your brand presence among your audience, custom umbrellas will make a great choice. When customers feel like they are getting more value for their money, the likelihood of them making a purchase increases. Every time you offer  a high utility promotional item like umbrellas that  your client are very likely to use, they will develop an affinity with your brand and develop an emotional connection. This will enhance their brand recall and their trust in your company. Thus popular gifts like custom umbrellas will get your customers come back for more and ensure repeat purchases.
 If you are planning to incorporate custom umbrellas as promotional items, check out these interesting models .
Automatic umbrellas
Hugely popular across all age groups, these handy umbrellas open and close with the push of a button. These are ideal especially for people on the move and are extremely convenient for the users. Hence these logo items will enjoy a wide usage and high retention.
Inverted umbrellas
Another interesting model is  inverted umbrella . These umbrellas fold inside out to keep the rainwater securely within its folds without spilling it over. The unique design is what makes this umbrella lot more interesting.
Cooler bag umbrellas
How about umbrellas with dual function? Here is an umbrella that also doubles as a cooler bag and even a speaker. It will be especially useful for the outdoorsy and partying crowd. Putting your brand on these popular models will indeed give your brand a panoramic display. Anyone who see such a product will definitely be curious and take an extra look. Furthermore, it wont cost you much to get these umbrellas as well.
Full color umbrellas
Make heads turn and add a fun pop of colors to normal umbrellas with these colorful fashion umbrellas. Worth showing off, these full color dye sublimated vibrant umbrellas are indeed something your recipients will never get enough of!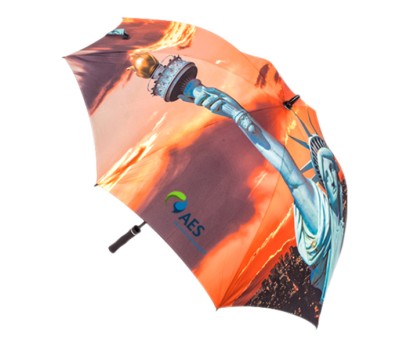 Umbrellas with printed inner canopy
The dual canopy of solid colored exterior and printed interior is another exciting model. You can customize the outer canopy or the interior of umbrella with your brand and message to ensure the best impact.
Reflective umbrellas
Offer more than what your clients expect by handing out these safety umbrellas with reflective trim . It will make the users more visible at night for motorists all the while increasing the visibility of your branding among bystanders. Show that you care for the safety of your prospects by handing out these umbrellas.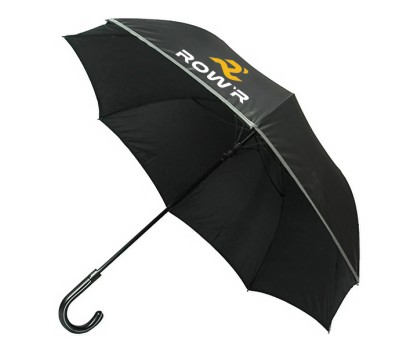 Looking for more? Browse our complete line of umbrellas to choose a model that will fit your needs.