Guess What Makes Umbrellas Great Gifts
Umbrellas are everywhere and make a great handout for the outdoorsy crowd.
The incredible color choices , imprint options and a large size has indeed made it hugely popular. No wonder umbrellas are a rage among college crowd, family audiences and outdoorsy audience alike.
Listed below are a few of the unique features of custom umbrellas that make it stand out!
Portable
Umbrellas are foldable and easy to carry for your customers anywhere. Choose models that won't take much space on their luggage to cater to people on the move.
Functional and fashionable
Umbrellas also have a unique design that sets it apart from others. Designed for a perfect outdoor experience and fun moments, umbrellas will keep the users safe from bad weather. In addition, it keeps the outdoor fun tide on. Further, you can choose from a wide range of simple yet functional models to ensure the best value for your dollars. Available in a range of trending models and fabulous colors,these custom umbrellas will definitely be a good addition to your outdoor marketing ideas.
Versatile
Umbrellas obviously make great party favors and business gifts alike, thanks to its high utility and fashion traits. For most people it is a reflection of their outdoor style as well.  Umbrellas can be used for picnics, camping, on the beach or on the move.
Models like beach umbrellas are very easy to set up in sand, grass or table top. Thus, no matter how your recipients use umbrellas at their backyard parties, your message on it will get a wide angle display. Umbrellas are hard to overlook and make excellent staples during any outdoor activity.
Durable
 In addition, umbrellas are available in various material choices. You can choose umbrellas with metal or fiber glass design and canopy material choices  like  pongee, polyester and nylon to suit your branding needs.  These are in high demand among custom giveaways because of its strong design. Did you know that custom umbrellas  have 14 months or more of retention, which even makes it a custom gift with the highest retention!
Fully Customizable
Umbrellas will make it easy to reflect your brand identity, thank to its massive imprint space and customization options. From eye catching, full color dye sublimation to subtle imprint on the inner canopy, you have  a lot of customization options on offer. Since people will use it for their outdoor activities, perfect customization will go a long way to take your brand far and wide.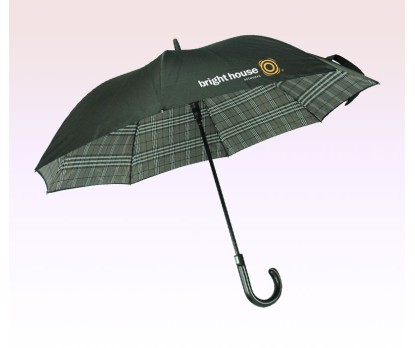 As  umbrellas have a lot to offer to your customers, your brand can undoubtedly benefit from it. Stay tuned to our daily blog posts that will guide you to make a great brand promo this season.