How Logo Umbrellas Get Your Message Out
Umbrellas are a handy item for just about anyone. It keeps the users safe from rain and sun while promoting your brand.
Marketers can enhance their outdoor brand visibility while boosting the fashion statement of the users by making custom umbrellas their swag. Win-win . Businesses planning to make great branded promotions can invest in these logo items.
Custom Printed Umbrellas: Why You Need Them
Everyone needs umbrellas! The best part is that umbrellas have come a long way since being black colored and boring. These days umbrellas are not just basic functional items but fashion accessories as well. Available in a wide range of colors, prints and models, umbrellas indeed offer something special for everyone.
Choose a model and customize it with your logo to make your umbrella into something crowd pleasing. Umbrellas will be an interesting and functional handout to  bring in customers and increase brand awareness. Use umbrellas in  fun designs and popular sizes, which will make a unique addition to your advertising campaign. Check out this promotional umbrella with cooler bags for inspiration!
Versatile
Umbrellas make great corporate gifts,  milestone gifts, and so much more. Choose models that complement your branding theme. Think of golf umbrellas, beach umbrellas and so on to cater to the specific needs of the audience.
Promote your brand using exclusive  logo umbrellas while offering a high utility product to customers. In addition, you can choose from various imprint options like dye sublimation and screen printing to get the desired outcome.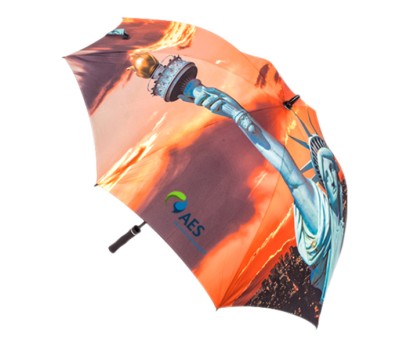 Incredible Exposure
What is great about custom branded umbrellas is  its wide reach.  It travels easily with your audience thereby taking your message far and wide. A custom umbrella is easily the best rolling billboard for your brand.
Functional
 Umbrellas are basically functional and  will safeguard the users from elements . Exposure to UV rays can be dangerous; hence umbrellas make great handouts to show that you care for the well being of the recipients. Therefore, it is a win-win for both businesses and customers!
Infinite customization options
Another brownie point of custom Umbrella with logo is that it can be customized the way you fancy to leave a lasting impression.  Make the best use of the generous imprint space of the umbrella to place your logo,  message and anything else that will wow your audience.  Your message will stand out against the bright colored canopy and will make quick leads as heads turn!
Interested in making your own custom branded umbrellas for promotions this season? Our design team can help you come up with a product that will match your marketing needs.