Halloween Gift Umbrellas – Things You May Not Be Aware Of
Custom umbrellas as Halloween gifts! Though it might sound a bit odd for atleast some people the fact is that umbrellas make perfect Halloween gift ideas which will make you forget about Halloween candy treats, glow in the dark gifts, stickers and tattoos among many others.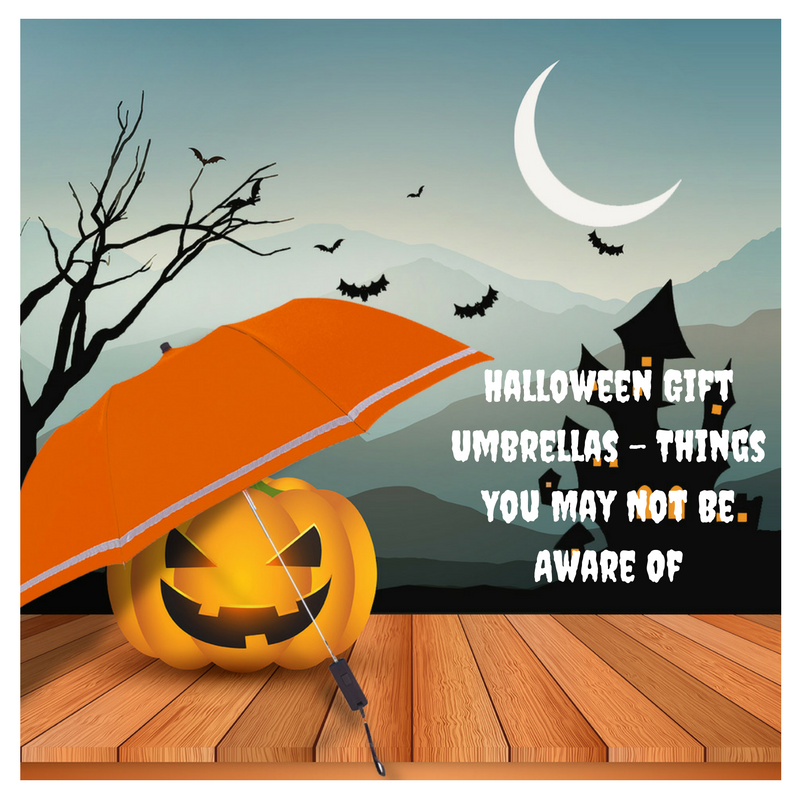 Why umbrellas
The generous imprint area of umbrellas will make a perfect creative canvas for you to imprint the haunted house themes, skull, witches or the black cat images with dramatic effect
Imprinted umbrellas make excellent functional items that people will love to use for a very long time
Available in various models and color choices, logo umbrellas offer something special for everyone
Customization tips
Halloween is all about fun, screams and thrills where the party revelers share the party stage with goblins, witches and scary creatures for the night. Choose any popular theme like pumpkin, witches, skull, spiders or haunted house as your imprint theme. Marketers can even imprint scary quotes or funny quizzes on these to make their customers engaged with their brand in a subtle manner.
Custom umbrellas will make perfect employee gifts, Halloween party gifts and store promotional items alike. The best part is that umbrellas that are customized in a Halloween theme can also be used as props and decorations to drive up the Halloween milieu of your stores. We bet, your head will be abuzz with a lot of other wicked pranks and spooky ideas that will make your recipients shudder in fear.
Now for some umbrella models that can be turned into spooky Halloween handouts in no time.
LED umbrellas These pitch black umbrellas with an LED handle will surely make a spooky Halloween accessory. Just imagine the fun when the trick or treat partying folks on the dark village roads will scream their lungs out when they see your recipients hold these umbrellas with a light up handle on a starless night! Advertisers pining for easy attention can always seek this umbrella and enjoy benefits of easy visibility and improved attention. This umbrella made of polyester fabric can be imprinted with Halloween images and artwork.
Mini umbrellas : Available in various colors, mini umbrellas grab instant attention of everyone around and if you customize it in Halloween themes and eerie figurines, its popularity will go up manifold. Do not forget to imprint your brand name on these to get your recipients familiarized with your products and services. Your recipients will love to use these Halloween themed umbrellas for costume parties, haunted house themed events and more.
Kids umbrellas: Halloween is something every kid will look forward to. Often kids plan the craziest and spookiest costume ideas months in advance to impress their friends and that is what makes kids umbrellas a great custom gift to consider during Halloween promotions. Choose from a range of animal shaped umbrellas and customize it in Halloween theme or pick up the colored umbrella with hook handle that will help your little recipients turn into umbrella witches that will send a shiver down the spine of everyone around.
We have a range of custom umbrellas of countless models and colors. Browse along and choose the one that suits your theme. Should you need any spooky customization ideas, call us for assistance.