How Branded Umbrellas Work For Your Business
Custom umbrellas need not necessarily be the top choice as marketing tools for businesses because of the slightly large initial investment involved. However what most marketers overlook is the fact that umbrellas have the highest retention of 14 months among all promotional items. Thus by investing in these long lasting and well retained gifts, businesses get assured ROI and repeat impressions.
Umbrellas are really useful!
Everyone needs umbrellas in their everyday lives. Apart from staying safe from elements, umbrellas also become part of the outdoor fashion for most people. the high utility is what  makes custom umbrellas perfect promotional gifts. As per reports 83% of consumers say they would keep a promotional umbrella for its practical value.
Custom umbrellas make big impressions
Custom umbrellas have an average  retention of over 14 months which is nearly double that of other promotional products. Thus they offer a high level of brand exposure because  it is not only the recipient who sees your branding but anyone in their vicinity!  On a rough estimate a branded umbrellas will generate a staggering 1,300 impressions during its shelf life to offer maximum value for the promotional dollars of marketers.
Umbrellas have a universal appeal
Branded umbrellas appeal to all age groups and demographics, which make it universally popular. With growing awareness of sun safety among people , the popularity of umbrellas has gone up even among the youth .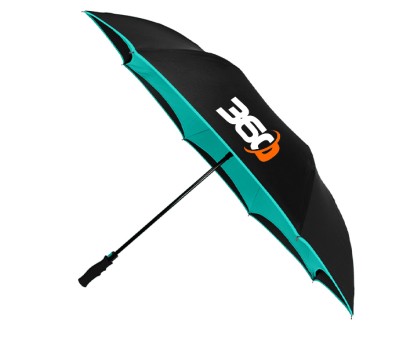 Logo umbrellas bring in business
Branded umbrellas  are also great promotional products; as people who get these giveaways are more likely to do business with brands that gave them a branded umbrella. Thus custom umbrellas are one of the best promotional products you could invest in.
Fully customizable
Needless to say, the massive canopy of umbrella is what makes it a branding machine! You can also come up with a creative message, artwork or logo  to get all eyes on it. The best part is that you can choose to place your logo on one panel, alternate panels or even the whole  canopy in full color dye sublimation. Thus marketers have the flexibility to adopt an understated or bold theme in their branding when they have versatile giveaways like logo umbrellas.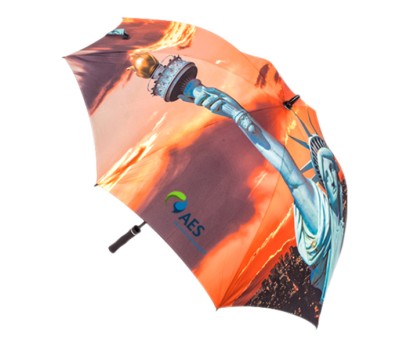 Wide range of choices
The best part of promotional umbrellas is that it is available in a wide range of popular and  novel models that will appease every genre of prospects. If you have a active outdoorsy prospects to reach out to, choose models like golf umbrellas or antiwind umbrellas. Designed to last long and look great, these full color umbrellas will ensure weather protection while boosting their style quotient.
For corporate clients, choose classic models like those with wooden hook handle. Further, it will make your brand the talking topic in their social circles. The urban crowd on the other hand will find auto open umbrellas a great choice as it is easier to carry and use. This you can choose an appropriate model that will meet the needs of the recipients.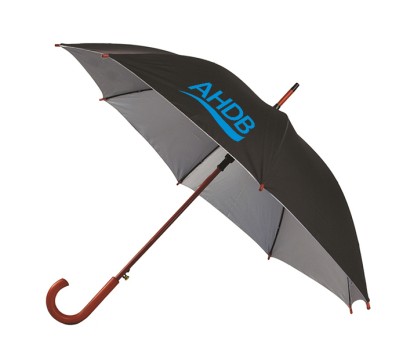 Umbrellas are ecofriendly
Going green has become a norm among businesses and individuals alike. Reports prove that brands that adopt ecofriendly promotional initiatives are more likely to be endorsed by customers. Reusable and long lasting, custom umbrellas make a great addition to the list of environmentally friendly gifts
Need more tips on promotional umbrellas? Feel free to talk to us or follow our daily blogs to stay on top of the trend.