How Custom golf umbrellas Cover all Possible Price Points – Must read
Versatile and functional handouts like golf umbrellas will help you get the best value for your money plus the unbeatable advantage of  getting a right model that fits your budget. Premium quality custom golf umbrellas are pricey than most other models in umbrellas.
Wonder why? Here are some features of golf umbrellas that account for the slightly higher price rates of these custom umbrellas.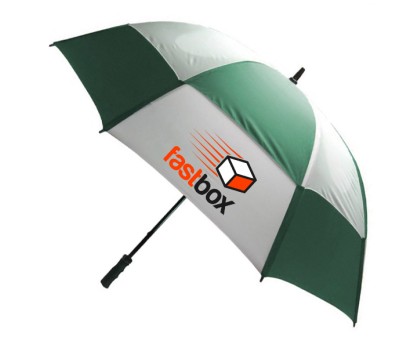 The frame
The frame of premium quality golf umbrellas are made of fiberglass, which offers more flexibility and durability. These can come back to its shape even when it gets bent in the winds . Whilst fiber glass frames are a little more expensive, these products will have a much longer expected useful lifespan.  In addition, fiber glass frames will also enhance the lightning resistant features of the umbrellas and keep the players safe in the greens.
If you are on a modest budget , you can settle for budget golf umbrellas that  feature steel ribs and pole. While the hollow steel pole may not be a problem the stainless steel ribs can bend or even break in the event of a strong wind. Though budget umbrellas can last long in normal weather conditions,  it may not withstand  strong winds.
Vented design
Though this feature may not add up to the cost of the umbrellas, it is a significant feature of premium golf umbrellas. The ventilated design will let the trapped wind escape freely from the umbrellas , making it stable.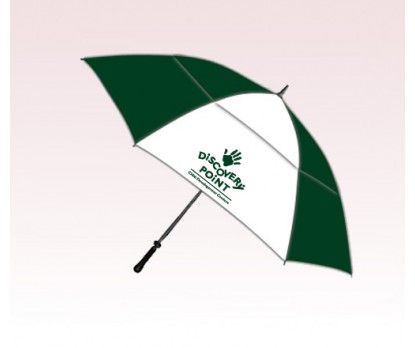 Imprint
The imprint options that you choose on the custom golf umbrellas will also affect the overall price per unit of a promotional golf umbrella.  While a simple one color printed logo will offer a  low cost price, the cost will go up with the  increase in the number of panels printed or the colors in your artwork or logo.
All over printed golf umbrella
Full color printed design of golf umbrellas can increase the cost significantly. However, the huge plus is that the finished product can be incredibly eye catching and provide a massive boost to your business. Full color umbrellas will make the golfers stand out in style while putting your message under spotlight.  Just imagine the exposure your brand imprinted on it will get among the players and the golf fans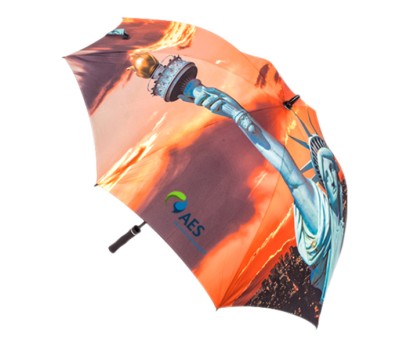 The good news is that whatever your budget, custom golf umbrellas cover all possible price points and can help you find a perfect printed umbrella for your business. Browse our collection of golf umbrellas to choose a model that suits your budget.