How Dye Sublimation Umbrellas Turn Heads
Promotional umbrellas are common yet well received giveaways you will see. Practical for daily life and ideal for any weather, umbrellas get used whenever people are on the move.
Available in many different designs and shapes to suit preferences, promotional umbrellas are well received always. If you are looking for models that are dramatically beautiful, look no further than these dye sublimated golf umbrellas.
Dye-sublimation allows products to have vibrant designs, patterns and colors to create sharp visual effects. It can create permanent full-color printing inside and outside the umbrella canopy as per your needs. This printing process will create more visually attractive umbrellas for clients. While they have a bragworthy gift to show off, your brand will enjoy a panoramic display on these brilliantly colored umbrellas.
Let's admit, the overall result of dye sublimation is breathtaking as it creates long-lasting designs to display. So, make your logo umbrella  stand out with these breathtaking customization option that will make eyes pop.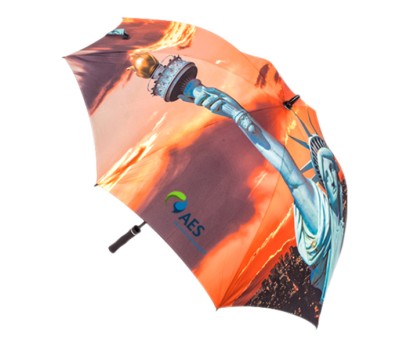 Advantages of dye sublimated umbrellas
This customization technique will let the marketers to choose colors that can be Pantone matched. Shading and graduation of designs will ensure  detailed full panel imagery. In addition, you can employ as many colors as you wish in your designs. The best part is that colors stay bright and vibrant for a long time
Why offer dye sublimation umbrellas as promotional items?
Design
The unique customization option will indeed give marketers a lot of creative scope in choosing designs. Even elaborate  artwork with finer detailing will look great on these golf umbrellas. With any design and Pantone color of your choice available to print these items have huge branding surface areas and potential. Make your golf umbrellas a hot favorite of your clients that they will love to re-use.
Brand exposure
Umbrellas in general are eye-catching, but make your umbrella stand out in true style with full color dye sublimation. Your brand will always stay in plain sight of everyone around. Matched with a great design, people will always recall your brand and be aware of what amazing gifts it offers.
Popular
Make your brand  popular beyond the greens with these trendy umbrellas that make heads turn literally.  Incredibly popular across all age groups in college campuses and high fashion streets, these custom giveaways will indeed make your brand the talk of the town.   Big enough for a couple , a family or a bunch of friends, these umbrellas have evolved to be  a fashionable accessory for people on the move. Make your brand part of the active life style of your employees with these custom golf umbrellas and see how your brand becomes popular than never before.
How do you plan to incorporate these stunning golf umbrellas in your promotions? Share your thoughts with us