Customize Umbrellas as Appreciation Gifts
Business appreciation giveaways play a big role in building trust and brand loyalty for every successful company.
Show your gratitude towards clients for their support and employees for their dedication with these thoughtful giveaways of umbrellas. If you're looking for  an elegant corporate gift that your recipients can use at work and at home, then, why not try custom umbrellas.
These provide excellent practical use for your recipients along with incredible branding opportunities for marketers. Available in different sizes, colors and styles umbrellas offer something special for everyone.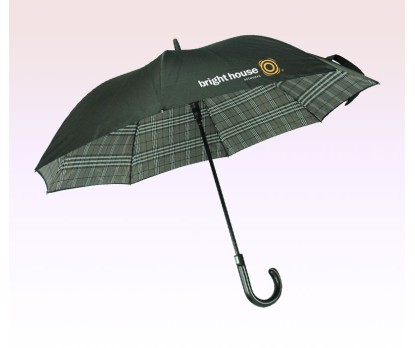 Benefits
Generous imprint space
Ample space for printing brand name is indeed the first and foremost advantage of umbrellas: You can have your logo printed on the canopy,  handle or even the case as per your branding needs. Choose a neat, minimalist style of customization to make it impressive.
Portable
Umbrellas travel easily with your recipients wherever they go .Choose from  various models like the handy mini umbrellas to large golf umbrellas and everything in between to suit the life style and preferences of your audience. For instance, if you have a millennial audience to cater to, golf umbrellas will make a popular choice whereas travelling executives may prefer mini umbrellas that are easy to carry and store.
Popular
Cute and trendy,  umbrellas will be great for any age range. So, your employees and customers can use them at work or give them to their kids at home. In addition the ample imprint space that umbrellas offer will indeed  give a lot of customization options for marketers to make it truly unique . Whether it is a creative design, text message or logo, umbrellas will make a great backdrop indeed.
Make Your Brand Visible
When your clients, employees, and customers  use these logo giveaways your brand will get a grand display, which in turn will highlight the loyalty of your audience as well.
Value added gifts
If you want to look professional, it is essential to invest in high-quality and practical gifts. You can even pair logo umbrellas with other corporate promotional stationery to make it more engaging.
 Quick Tips
Convenient umbrellas are useful to stay safe from elements and to boost the outdoor style for your recipients.  They will get to use a beautiful umbrella while your brand becomes a part of their every day lives. It's certainly a win-win!
 Giving business appreciation gifts during important occasions and milestones can strengthen business ties. For instance, printed umbrellas make great giveaways during company anniversaries, Year-End parties and business promotions. It will make recipients feel part of your success and will connect their positive experience to your gifts.
Do check out our blog for more ideas!