Umbrellas-Put Your Brand On the Move
There is indeed a perfect umbrella model for every outdoor activity lovers.
Your prospects need not worry about bad weather playing spoil sport during their holidays with this handout. Choose custom umbrellas from  a wide range of interesting colors and models that will keep the users safe from elements while putting your brand on a wide display.
Attention grabbing yet easy to carry, umbrellas often make great conversation starters.  Durable and ideal for the rough and tumble of everyday use, logo umbrellas make consistent impressions for a long time.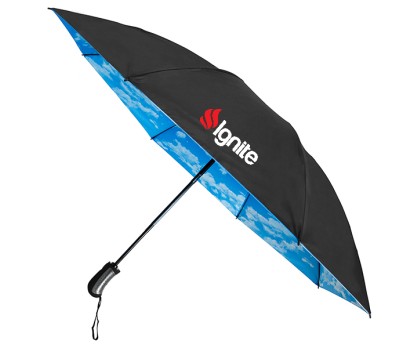 Why offer your clients and customers umbrellas?
Boost your sales
Umbrellas make a perfect promotional idea for all businesses especially companies offering camping, hiking and other kinds of outdoor activities. These trendy and colorful umbrellas certainly draw customers attention and encourages them to purchase your product. 
Boost Brand awareness
The massive imprint space is the winning card of umbrellas . Your message printed on it will get easy recognition. Plus, your recipients may take it everywhere they go and  a lot of other people will ultimately see your brand logo on it.
Practical
Umbrellas are highly useful handouts for everyone.  Whether your customers will use it for camping needs or when they are out and about, they will find these accessories handy . Umbrellas have a long product life and ensure years of use. Thus the users will constantly be reminded of the company when they use it.
Here are some popular models that you will find interesting
Golf umbrellas
These trendy umbrellas have come a long way since being golf day staples. Today. these massive golf umbrellas are a rage among college goers, family groups and in fact everyone that desires extra coverage on a bad weather day. Choose from a wide range of models including square canopy umbrellas or full color dye sublimated umbrellas among others. Your logo and message imprinted on these umbrellas will get a lot of attention for sure!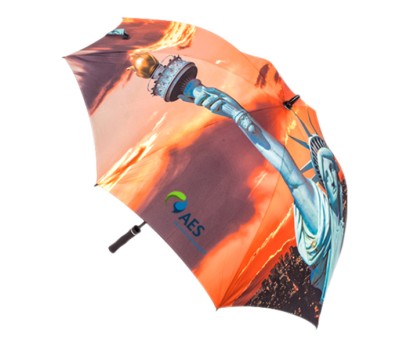 Hands free umbrellas
The loop handle of these umbrellas will give the added convenience of holding the umbrellas with their wrists while freeing up the hands to hold their bag or phone. Choose from a range of solid colors to match your theme.
Inverted umbrellas
Gone are the days when wet umbrellas used to leave  the floors and cars damp and messy. Check out these super smart umbrellas that will fold upside down thereby retaining the rainwater within its folds without spilling it out.
Looking for more? Browse our complete line of umbrellas to choose a model that will meet your needs. For any further assistance, our team is only a call away.