How Golf umbrellas Get Your Brand Covered
Golf umbrellas are an excellent choice for your outdoor marketing efforts.
Long lasting and trendy, these colorful umbrellas ensure a  long and successful working relationship with your customers and will leave them impressed.
Take a look at the incredible range of custom golf umbrellas to choose a frame that suits your needs.  From storm proof umbrellas to square canopy umbrellas, auto open umbrellas and full color dye sublimated models, there is something special for every call. The choice is yours.
So go ahead and design your very own custom umbrella to impress the outdoorsy crowd and your employees. Ideal as gift bag items, contest prizes at golf tournament giveaways, your customers would indeed love these trendy umbrellas.
Here are some unbeatable features that make these umbrellas popular handouts.
Handy
Moreover, golf umbrellas attaches easily to almost any golf bag to ensure instant protection to the users when needed.
Sturdy
The large, vented canopy that resist windy conditions and  fiberglass rib construction will increase umbrella life and durability. Ergonomic handle, lightning resistant and light weight design are the other features that you would love about golf umbrellas.
Easy to customize
Choosing a highly functional and fashionable golf umbrella is only half your job done. To please the audience, it must also display your branding beautifully. Think of something interesting like fun quotes or artwork  beyond your logo. Make use of the vast and visible place for your imprint in an eye catchy manner . It will indeed keep your brand stand out in the greens and beyond and engage the prospects with your message easily.
The incredible customization options will make golf umbrellas a great investment for marketers to boost their outdoor promotions. You can choose to have your logo and message inside, outside, or the entire canopy of the umbrella to complement your branding theme and draw easy attention of people around.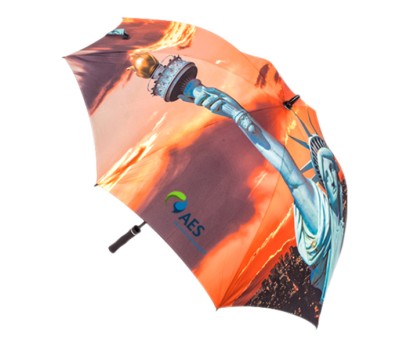 Something special for everyone
Golf umbrellas are available in a wide range of popular sizes, both when it is open or closed. It opens to a roomy arc that covers two people easily and when they need to stow it away, it folds down to a compact size that wont take up much storage space. Thus golf umbrellas are not only for the course, but it's just as handy during commute, school, or anywhere else you travel.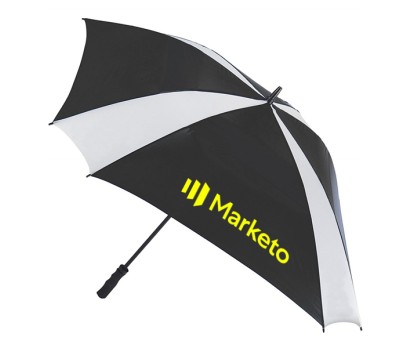 Popular
Your prospects, employees and other recipients will appreciate receiving  golf umbrellas as promotional gifts as they can use it and show it off everywhere they go. It could indeed be the start of a beautiful business relationship even! So, isn't it time that you considered custom golf umbrellas as your promotional items? It will fit just right for sales meetings, conferences and employee recognition events or golf holidays.
Contact us today for more tips and assistance. Golf umbrellas will indeed be a great addition to your marketing strategy.