How To Make Your Custom Umbrellas A Conversation Starter
Choosing the best promo gifts is only half your job done because making it a conversation-starter among the audience is what makes all the difference. Make the design and branding of custom umbrellas something that engages the audience while being relevant to your promotional theme. Make sure to include  your corporate colors and the fonts that you use in your websites to ensure uniformity and make it easy for the recipients to remember you brand.
Printed  umbrellas are available in various color choices. Classic colors like grey, white and black are the most frequent options as they match with the  rest of your customer's gear.
Customize to ensure Brand recognition
Brand recognition is crucial to make your business stand out from the crowd. Promotional products are an effective  way to make your business popular, without breaking the bank. These practical gifts will be used regularly, which means your brand remain subconsciously at the forefront of their minds.
Umbrellas create a buzz around your brand easily and are effective giveaways to  announce new products, promote sales and enhance brand recognition.
Umbrellas have More impact than a business card
Though business cards are by far the most classic promotional tools for businesses, people often misplace or discard it. So, to serve your promotional goals, you cannot rely solely on business cards any more. By investing in custom corporate gifts such as umbrellas with your company's details on them, you're ensuring your customers are less likely to lose them. For every business vertical , logo umbrellas can be a major draw card, because your customers will instinctively look for your contact details on umbrellas whenever they you're your services.
Wider reach at one time cost
Many forms of marketing involve spending excessive amounts of money, without promising a good return on investment. Promotional umbrellas on the other hand offer a wide reach at one time cost. Whether you are interested in branded corporate gifts that are exclusive or something practical, umbrellas will fit all your bills. Customize it with your logo and message to match the tastes of your audience. What's possibly best of all is that is only a few dollars more expensive than most other basic giveaways, umbrellas ensure repeat impressions for a long time.
Umbrellas have the highest retention
Umbrellas have the highest retention of 14 months among promotional giveaways. Thus by investing in custom umbrellas you get a branding machine that performs non- stop for your brand. Thus it can help businesses of all sizes to increase brand awareness, customer loyalty, and ultimately, revenue.
Know your target audience
Marketers can choose from a wide range of custom umbrella models that will meet the specific preferences of  their target audience. Spare a thought at the tastes and demographic of your target audience. Are they mostly young adults, families, or seniors? Do they work in a specific industry? Are they outdoorsy type? Answering these questions will help you select a promotional umbrella that is both relevant and useful for your target audience. For instance, for the frequent commuters, choose compact models like mini umbrellas whereas massive models like golf umbrellas will make a better choice to reach out to family audiences.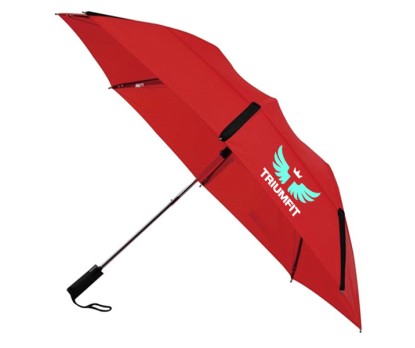 Summing up
Promotional umbrellas are an effective way to increase brand awareness, and customer loyalty. Choose an appropriate model to meet your promotional objectives easily.