Imprinted Umbrellas – Make Your Brand Spotted
In today's marketing world being noticeable is what makes or breaks brands. So, it is crucial for marketers to invest in high visibility custom giveaways like umbrellas. Major corporations spend millions of dollars every year to market their brand through various branding strategies like TV advertisements, newspaper ads, billboards, trade shows and custom giveaways.
As conventional ads have a relatively low shelf life and a high investment, it might not be a feasible option for small and start up organizations. This is where handouts like custom umbrellas come to the center stage.
Just take a look at the different ways imprinted umbrellas work for your brand!
Branding
Considering the fact that umbrellas have a high perceived value, it will make a perfect gift choice for high value clients and elite business events where ordinary gifts wont do. The recipients will be constantly reminded of your business brand and marketing message, every time they use these umbrellas.
The massive imprint space will ensure a panoramic display for your brand every time they walk past with their open umbrellas. The best part is that umbrellas offer ample customization options right from big and bold to subtle and low key. If you have a dramatically beautiful artwork to show off, full color fashion umbrellas will be a perfect choice to make heads turn.
If you are looking for an understated display, you can choose to get your logo or message imprinted on the inner canopy,  the handle of the umbrella or even its carry case. No matter whether you wish to make use of the whole canopy to position your message, single panel or alternate panels, custom umbrellas will make a perfect choice.
Variety
Logo umbrellas are available in a wide variety of sizes, models, shapes and colors. So, you can choose an appropriate model that will creatively display your marketing message across the canopy to generate maximum impact. Innovative models like inverted umbrellas or antiwind umbrellas are great choices to consider.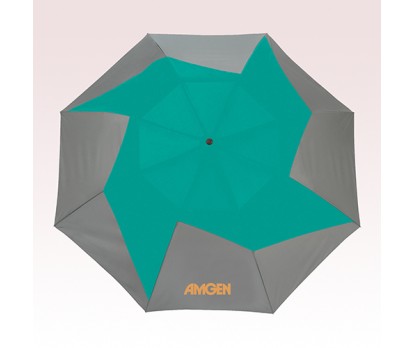 Walking Billboard
 Umbrellas aren't items that one leaves behind in their closets but actually carried around by users wherever they go. So the next time someone opens a custom umbrella handed out by you, they will not just stay safe from elements but will also display your brand and marketing message to others around them too!
With so many direct advantages, why would you choose any other option? Make imprinted umbrellas your swag during your next marketing campaign to reap maximum benefits.