How Custom Umbrellas Enhance Your Brand Influence
Umbrellas are important everyday items in people's lives all-round the year. Whether it is sun or rain, everyone needs an umbrella. It is versatile, practical and your customers will use it every day while your brand will get displayed in public. Plus custom umbrellas have evolved to be trendy fashion accessory to enhance the outdoor style of the users these days. Available in a wide range of models including in a wide palette of colors and interesting prints, shapes and models, umbrellas have indeed come a long way since its origin as plain and boring models.
 Golf umbrella
Custom golf umbrellas are probably one of the most trending models today.  These massive umbrellas that can hold two or more people under its canopy are a rage among friends, colleagues and families for the luxury of moving together under a single umbrella.
Transparent umbrella
Transparent umbrellas imprinted with your company's logo are a perfect way to make heads turn.  The transparent panel allows the users to enjoy the rains and to clearly see what is ahead while using these umbrellas. It makes it easier for the users to cross busy streets without bumping into others or poking them. These clear umbrellas will stand out among other standard umbrellas and ensure a higher visibility for your brand.
Custom clear umbrellas are a hot favorite as wedding favors and bachelorette day giveaways among others. Available in a wide range of models including those with accent trims, these umbrellas make are absolute crowd pleasers for sure.
Auto open umbrellas
Offer the convenience of opening and closing the umbrellas with the flick of a button with custom auto open umbrellas. Available in a wide range of models and colors, these are a perfect choice for people on the move and travelling employees. Offered in various canopy sizes, these will fold down to a compact, travel friendly size.
 Inverted umbrellas
Gone are the days when wet umbrellas used to leave a trail of water when brought indoors.  Inverted umbrellas are designed to keep the rain water within its folds keeping the users absolutely dry. Choose from various fashionable colors and prints like leopard prints to enhance the gift experience. Add your message , logo and message on these umbrellas to make a high visibility billboard for your business that will never be overlooked.
Flashlight umbrellas
Offer double convenience of an umbrella and a flashlight at the cost of one with custom flashlight umbrellas. Invest on these unique models, which will make a great talking topic among the audience for sure.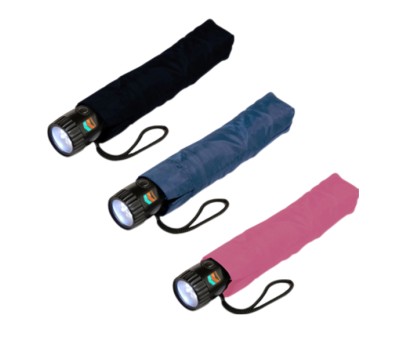 Looking for more? Browse our complete line of custom umbrellas to choose a model that will match your budget and promotional theme.