Matchless Benefits of Promotional Umbrellas in Marketing
Umbrellas as promotional material ensure ongoing brand exposure and precious brand impressions at one time investment. Custom umbrellas offer more value for your investment as they remain in service for many years; displaying your brand in front of the niche audience. Logo umbrellas have the highest retention of over 14 months, during which these outdoor accessories will ensure incredible brand display while protecting your recipients from the elements in various weather conditions–rain, snow and sun.
 Here are some advantages of deploying premium umbrellas as promotional  giveaways
High utility
Custom umbrellas make valuable advertising amenities that your recipients use frequently. Thus it will ensure  greater brand exposure with no effort or repeat investment. Studies show that most consumers prefer to receive high utility giveaways rather than novelty items. That is yet another reason for you to choose custom umbrellas as promotional items. Logo umbrellas that are lightweight, sturdy and wind resistant that will appease most people.
Ecofriendly
Promotional umbrellas are environmentally-friendly with a longer shelf life. Socially committed businesses can use umbrellas with confidence because their recipients are less likely to discard these high value giveaways. In addition during the incredibly long shelf life, umbrellas make repeat impressions , delivering more brand impressions and more brand affinity.
Umbrellas double up as trendy accessories
Gone are the days when umbrellas used to be just functional. Today, they are available in various interesting models including inverted umbrellas that turn inside out or hands free umbrellas. Speaker umbrellas that bring together the added features of a cooler and a speaker in an umbrella is another fabulous choice.
Umbrellas offer more value for your money
Though logo umbrellas may cost you more than most other giveaways, this initial investment will pay off  with its high utility and incredibly long shelf life. Logo umbrellas will easily give your marketing initiative better reach through  long term use and hence will ensure assured return on your initial investment.
 Customizable
The best part is that custom umbrellas offer various customization options for bespoke branding.  You can choose to place your logo on one panel, alternate panels or the whole canopy for the desired branding effect. Moreover, umbrellas stand out at events like trade shows and conferences because of their distinctive form and size.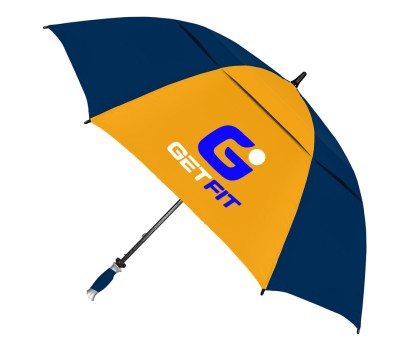 By putting your brand on umbrellas you can make it stand out from the crowd and the competition. Include corporate colors, a power packed tagline, an interesting artwork  or in fact anything that you think will make your  branding unique to make heads turn . Anything imprinted on the generous imprint space of the canopy of umbrellas will catch the eyes of many prospective clients and competitors for all the right reasons. Let's be frank about it! Umbrellas make a high utility handout that will make your brand instantly recognizable.
Should you need more tips, reach out to our team to get started.