Nothing Can Hamper Your Brand Visibility When You Have Custom Oversized Umbrellas
Umbrellas have evolved a lot since its inception as weather wear items around 3000 years back. These days, umbrellas make fashion accessories, snap shot props, movie and pop song themes and a lot more. From the foot tapping pop song of Umbrella of Rihanna to the Musical fantasy film of Mary Poppins who flew around in an umbrella, it is indeed celebration time for umbrellas! Offered in a range of eye popping styles and colors, umbrellas of today's contemporary world are different from the erstwhile simple black umbrellas that were plain functional.
Marketers who wish to earn the undivided of their audience will find oversized umbrellas a perfect choice. The massive canopy can easily hold more than two people from rain or sun while it transforms into an interesting canvas to place the business message for businesses. Choose from a range of colors and patterns to complement your promotional theme and budget.
For the beach
Offered in 5 fabulous colors, 72 inch Beach Customized Logo Umbrellas are well suited for beach events, outdoor promotions, corporate golf weekend and more. Anything imprinted on these nylon umbrellas will never fail to turn heads as these imposing oversized umbrellas will make your message well seen even from a distance.
Outdoor promotions
86 inch Arc Custom Promotional Umbrellas offered in five attractive colors is great for any fair weather outdoor promotional activities and events. Cafes and restaurants can turn the space outside into a welcoming spot for their diners with these colorful umbrellas. The windefyer vented canopy is designed to withstand high winds while the polyester fabric makes them attractive, light weight and above all popular.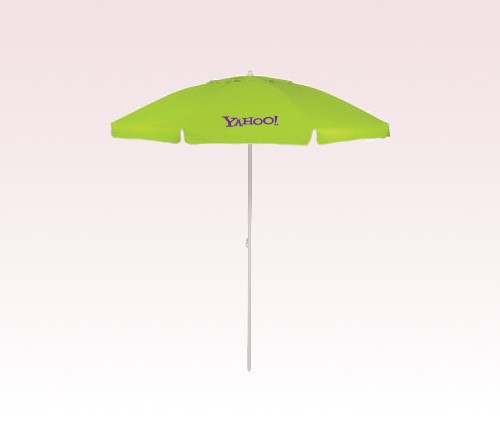 Bigger the better! These 98 inch Custom Promotional Umbrellas will prove that being plus size is indeed a blessing in promotional industry. Offered in a range of solid colors, these custom umbrellas will put your brand and message on a wide display for everyone to see. Announce special deals or new store openings, add a pop of color to your outdoor tradeshow booths and more- these custom umbrellas will make your competitors a pale shadow in front of your brand display!
Corporate golf weekend
Planning a golf weekend or picnic anytime soon. Make sure to shop for these 82 inch Arc Vented Custom Logo Umbrellas and customize it with your brand and message to make it a high visibility bill board for your business apart from being a cozy place to hobnob. Made up of polyester fabric, these umbrellas with windefyer vented canopy can withstand high wind conditions. Install at places which receive highest number of visitors to drive up your brand visibility at easy rates. These can also be used to promote brands and business offers as the vast canopy can highlight your message in style and will draw the attention of everyone around.
Which of these oversized umbrellas are you making your marketing tools? Share your thoughts at the comments section below.