Personalized Transparent Umbrellas- The Perfect Fall Season Party Favors
Fall season is unbelievably earthy and naturally beautiful. From the brilliant tones of yellow and orange colored falling leaves that paint the country roads in a palette of vibrant shades to the pumpkins starting to pop up and the corn stalks turning yellow, this harvest season makes a visual delight in its truest sense.
Fall also happens to be a great time for outdoor weddings, picnics and family get togethers. With Halloween and Thanks giving inching closer it is a great time for people to plan family dinners and reunions. If you are looking for a wedding day gift this season, look no further than these transparent umbrellas that are dramatically beautiful and a great way to celebrate your special day. Your recipients will find it useful during the outdoor wedding event to shield from any unexpected showers as well. The best part is that even when they keep the umbrellas open they can still see the natural brilliance that the autumn season will unveil! Imprint your message, initials or wedding date on the transparent canopy to make it a perfect souvenir of your wedding day.
Thanksgiving family reunions and parties will make yet another perfect occasion for people to consider these logo umbrellas as party favors. Well retained and received, these logo gifts are something that your recipients will cherish for a long time. The best part is that unlike the conventional black colored umbrellas, bubble umbrellas are delightfully pretty and elegant, which makes it a fashion accessory and photo prop as well.
You can choose from a range of transparent umbrellas in various price points. Get started here right away!
Clear Bubble Umbrellas with Hook Handle: Made of Clear vinyl these umbrellas stand out for their impressive trim color choices of Pink, Cyan, Royal, Red or Yellow. Colored plastic tips and ferrule caps enhance the safety of these custom umbrellas while the clear vinyl bubble design ensures a fairy tale charm. These can be used family reunion gifts, wedding favors or more. Your guests will remember your special day for yet another reason for sure!
Logo Imprinted Clear View Safety Umbrellas: This automatic open umbrella features a single transparent panel canopy, which is sure to receive wide appreciation. This yellow colored umbrella will make a perfect party favor for any fall color themed event like weddings or birthdays. Imprint your message and artwork and see how these logo items will turn heads easily!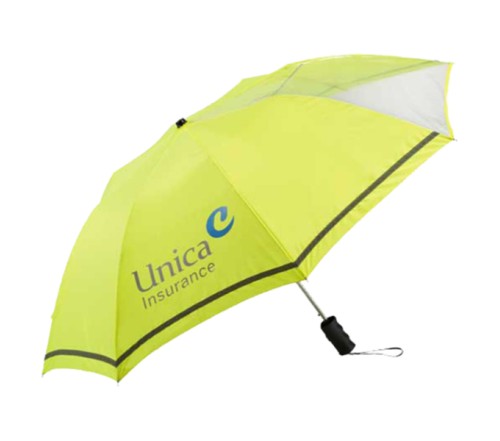 Purple 48 inch arc Bubble Lollipop Umbrellas: Brilliance and beauty are the hallmarks of fall season. Everybody will get easily drawn towards the bubble shaped clear canopy, which will make great fashion accessories and party favors. The Steel windproof frame, 48" arc clear canopy with purple border and manual open function will all prove that these umbrellas are fun, functional and fashionable!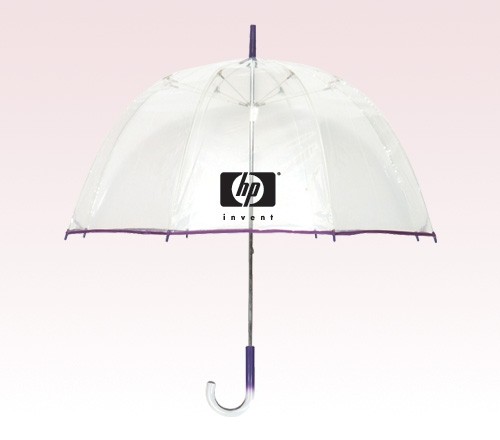 How are you planning to use transparent umbrellas as party favors? Share your ideas at the comments section.