Promotional Umbrellas -One-Size-Fits-All Marketing Tool
Custom umbrellas will have your recipients covered in both rain and shine. Your employees and clients will appreciate an umbrella gift when bad weather takes them by surprise. Umbrellas are available in dime a dozen models and sizes as well. Whether it is the compact, manual umbrellas or the massive golf umbrellas or the innovative inverted umbrellas or more, we have something special for everyone at virtually every price rate.
Every time your recipients go to a crowded place with these stunning branded umbrellas, your brand exposure gets multiplied. Umbrellas are well retained and are seldom discarded, which makes it an effective promotional product that makes countless impressions over its lifetime.
Easy to customize in different styles and colors
Umbrellas are incredibly versatile and offer ample customization options to cater to your promotional needs. Offered in a range of vivid colors, these set a great backdrop for your logo. Umbrellas are available in different sizes and various styles that offer something special for everyone. From patio umbrellas to standard umbrellas and everything in between, umbrellas offer a perfect choice for every business.
Your recipients will be excited to get something useful and functional as an umbrella. With a host of cool and trendy models on offer you can easily choose a striking model that stands out from the rest of the crop! Choose a trending model and come up with an interesting message or artwork to promote your brand. A trendy umbrella has the potential to be a topic of discussion for anyone who sees it and will definitely give you the publicity you are looking for.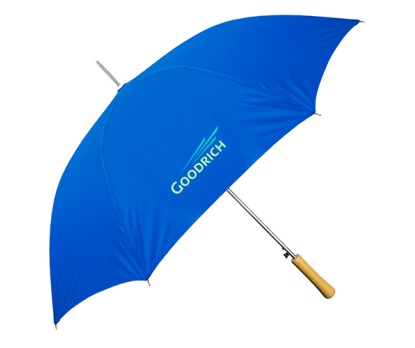 Popular among people of any age and gender
Umbrellas are essential accessories that are used by everyone, regardless of their age and gender. Thus logo umbrellas will make a perfect gift choice even if you have a diverse audience group to reach out to. From school students to professionals and elderly community, , an umbrella is something that they all find useful While most promo gifts will meet the needs of only a specific age-bracket or demographics, custom umbrellas can be used in all types of promotional events.
Reusable And Environment-Friendly
Umbrellas do not pollute environment like some of the conventional publicity materials like flyers and brochures that are discarded almost instantly by those who receive it. Umbrellas are long lasting and reusable, which do not end up in landfills quickly, making them an eco-friendly promotional choice. Customize your own umbrellas and give a creative spin to promote your brand and impress your audience. Put on your creative caps to add fashion elements and interesting message to make it a high value product that is hard to resist!