Tips To Choose The Perfect Wedding Umbrella For Your Big Day
Getting married any time soon? Wedding umbrellas will make great accessories to round off the day and to impress your guests. These ornate umbrellas are something you might surely want to give a thought. Umbrellas are not just about rain and frost but make a cute accessory to the wedding dress and make a great prop for all those wedding snapshots and photo booth moments. Winter weddings are getting popular by the day because of the lean season cost advantage for wedding venues and event planners which make it easy to pull off a wedding in your dream within your budget.
Here are some well kept secrets that will help you get the best wedding umbrellas in town.
Transparent umbrellas are a rage
Transparent umbrellas will complement the pristine white winter wedding settings and will make a great prop for those wedding photos. The large dome shaped canopy can be imprinted with your initials or artwork to add a personal touch. The good thing is that these umbrellas will offer the luxury of seeing the sky and the snow all the while shielding your recipients. Offered in a range of price points, transparent umbrellas can be made available for the entire bridal entourage without breaking your budget.
Add a pop of colors
Add a pop of color to the wedding settings and infuse a lively charm to your winter wedding. Choose transparent umbrellas with colored trim that make some great looking snaps. If you are a little dicey regarding the color choice, stick to your theme colors.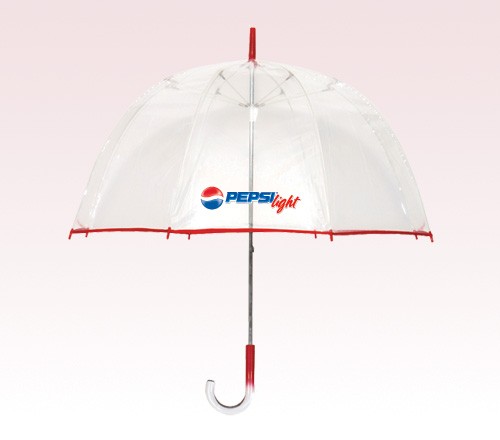 Auto-Open Floral Ladies Ruffles Style
Add a vintage theme to your wedding setting with these personalized 46" wedding parasols auto – open floral ladies ruffles style that will make great options for bridal showers and wedding days. These automatic opening umbrellas stand out for its elegant and elaborate floral ruffles, golden tips, frame and ferrule and ebony wood finish. Hand it out for the family and guests to create a period milieu and a royal touch to your wedding.
60" Wedding Party Umbrella
Personalized 60 " wedding party umbrella will make a great wedding day prop and a weather wear item alike. The delightful pink and white panel canopy will match the white winter setting subtly. The double ribbed frame and wooden handle with metal shaft will enhance the functional features of these umbrellas , which means that these umbrellas will continue to be used regularly even after the wedding day. Personalize these with your initials or wedding date to make it a delightful wedding day accessory that your guests will cherish for a very long time.
44 inch Auto-Open White Wedding Party Umbrella
44" auto-open wedding party umbrellas will make a perfect wedding day umbrella that will easily fit within their bags, purses or bag packs because it folds down to 15". It makes a perfect gift for bridal shower, wedding parties, hen's night or bachelor's party. The white canopy will set a perfect and pristine backdrop for you to place your wedding greetings and images. Your guests will literally be swept off their feet by the charm and elegance of these wedding umbrellas. Go for it!
Which of these wedding umbrellas are you planning to use in your promotions? Share your thoughts at the comments section below and join our conversation.