Tips To Customize Promotional Umbrellas  To Make Your Brand Standout!
Umbrellas are popular handouts because everyone needs it in their lives.  By handing out a custom gift that is valuable and interesting, marketers can keep their audience well engaged with their brand. So, how to get your message out and make your promotional umbrellas stand out?
Here is a quick guide that will get you covered
Include A Crisp Tagline
Taglines make it easier for your audience to remember your brand, So, make sure that your umbrellas have a memorable tagline and a good design. The taglines you choose should be short and crispy like jingles so that your audience can understand and interpret. Your message should ideally convey your business in a nutshell and complement your brand culture and goals.
Avoid Too Much Information
An excess of anything is bad; the same applies to your promotional message as well. Avoid lengthy and meaningless marketing jargon. Choose a short and creative message that will grab easy attention and will make the audience sit back and take note of your message.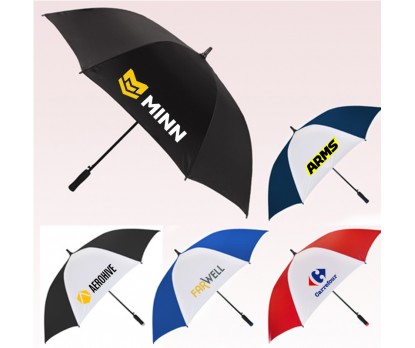 Stay Away From Using Too Many Colors
It is interesting that surveys show that a majority of customers (84% ) find color as their primary motivation for purchasing a particular product! If you choose umbrellas that are garish, people may not even use it. The same is applicable to the imprint colors. Choose one or two imprint colors; too many colors will also drown your message!  It is recommended to use colors that complement your brand color.
Use Trending Models
Choose the most trending models to make your promotional umbrellas the favorites of your recipients. Interesting models like speaker umbrellas, inverted umbrellas etc get the highest retention.  Your recipients will be excited to get a model of umbrella that nobody else has!  Umbrellas not just help you expand your reach and influence but also promote customer loyalty. Try it!
Choose Subtle branding
Umbrellas offer the added advantage of subtle branding where you can get your logo or message imprinted on the inner panel, carry case or handle depending on the model you choose. It will help you to put your brand on plain view of your recipients without being loud.
Umbrellas enjoy a long retention and the users will continue to use it as long as it works. Branded umbrellas will help make your brand part of the customers' daily lives. Your message imprinted on these will get a lot of attention and appreciation.
Use the smart customization tips above to make your brand stand out.