Double Canopy Golf Umbrella- Product spotlight
Golf umbrellas are exclusively designed keeping in mind the unique needs of golfers. Larger than standard umbrellas, these will protect not just the golfers but their caddies as well. The massive canopy and the interesting color choices make golf umbrellas a favorite among every genre of users and not just golfers.
What's a double canopy golf umbrella?
These massive umbrellas for golfers have two layers instead of one, which enhances its durability and weather proofing features.
What are the benefits of a double canopy golf umbrella?
Wind resistant: During stormy weather, these umbrellas will stand upright without getting toppled over. The double canopy design will let the wind to pass through them without turning inside out. These umbrellas thus ensure maximum protection for the users from the rain and hassle free use even in gusts and minor storms.
Massive : Umbrellas have a large canopy that will ensure ample shade for you. Ideal for rain and shine, golf umbrellas can hold more than 2 people under its canopy, which makes these a popular choice among family audience and office employees.
Sturdy design: Double canopy umbrellas are well-designed, sturdy and  have handles with firm grips, which makes it easy to use
Easy to customize: You can imprint your brand and message on the umbrella directly. It will help you to highlight your brand. You can also considering putting your logo on the handle of the umbrellas or the inner canopy if you wish to adopt a tasteful and subtle promotion.
How to choose a double canopy golf umbrella
Though all double canopy umbrellas may look the same for an ordinary pair of eyes, these have different purposes and subtle variations in their design.
Designed for Specific purpose : Double canopy golf umbrellas include all the functions of a standard umbrella and more. If you are looking for a model for windy weather, umbrellas with full length second canopy will be a great choice. Models with shorter second canopies are best for less windy weather.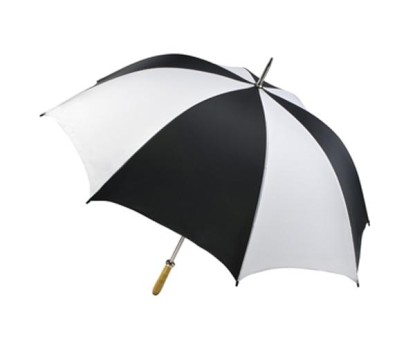 Umbrellas with inverted second canopies are ideal for rainy season while those with longer second canopies are best for sunny weather.
Some of the popular models to consider include
60 Inch Arc Custom Printed Golf Umbrellas W/ 3 Colors: These sturdy umbrellas have Six-panel 190T double layer Polyester canopy  with silver trim for maximum ventilation and wind proofing while metal shaft and ribs will enhance its durability. Customize these umbrellas with your brand and message to make heads turn!
Double canopy square golf umbrellas: These umbrellas with an outer and inner canopy will stand out in the golf greens for its unique shape while the durable double canopy design  ensures more value for your money.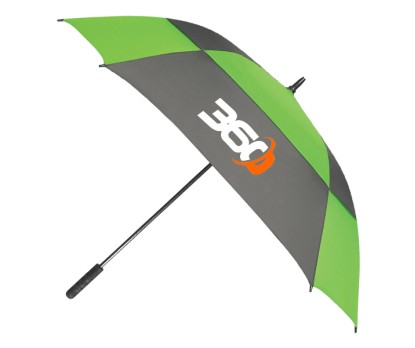 Options are truly yours when you have the best performing double canopy umbrellas as your promotional items. Tap its promotional potential to get the best value for your money.