Top 5 Marketing Ideas With Logo Umbrellas
If you have not considered custom umbrellas as corporate gifts, you are missing out a lot. In fact, umbrellas  are  often overlooked by most people as they look for umbrellas only when they are caught unawares in bad weather.
Why umbrellas
Assured ROI
Considering the incredible return on investment that umbrellas make, they have one of the lowest costs per impressions . When you consider the cost of the umbrella with the  number of impressions they get, the cost is cheaper than most other forms of marketing.
Now for some stats and figures
45% of consumers in the United States own promotional umbrellas. A user retains it for an average of 14 months or even more. Thus they will get over 1100 impressions during the life time of  umbrellas, which in turn will work out to only one penny per impression!
Brand recognition is essential to the overall success of any brand.  Afterall, customers feel at ease  doing business with a brand that they know, rather than dealing a new brand. Reports show that a staggering 85% of people who receive a promotional item will develop a favorable opinion of that brand, and are more likely to do business with a company that hand out custom giveaways.
Umbrellas are popular
Everyone needs umbrellas in their everyday lives.Consider the fact that umbrellas are not just  for bad weather but will even make great fashion accessories and even props. Thus your message imprinted on umbrellas will get a wide angle display. So, you have  a versatile and popular handout that will get your message across all age groups and demographics.
Limitless options
Umbrellas are no longer plain and boring. These days, you can choose from a wide range of models including cooler umbrellas, inverted umbrellas and hands free umbrellas among others. Choose a model that will complement your branding theme; customize it with your brand and message and you are all set to make eyes pop.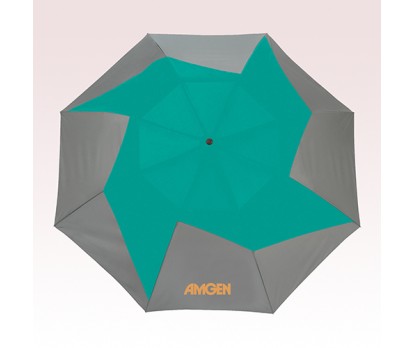 High visibility
Umbrellas stand out in style in all types of events; and will put your brand in plain sight of the audience. So, just think of the impressions your brand will get on the beach, outdoor events and game days.
Versatile
Umbrellas will never look odd in any promotional event and will gel well with any promotional plan. For instance, whether you are into healthcare, education and banking, custom umbrellas can be incorporated to promote your brand while complementing the theme.
Are you planning to use logo umbrellas as giveaways for your upcoming events? Share your ideas with us on our facebook page.