Umbrellas as Giveaways- Facts and Figures
The global umbrella market is booming. Feted as one of the most useful inventions in the world, umbrellas protect the users from weather elements. However, over the years, with the advancement in technology, conventional umbrellas have undergone a lot of innovative changes. From the change in their design to the different types of fabrics, you have a lot of choices today.
In addition, the global umbrella market is likely to hit more than USD 7 Billion by 2025. The folding umbrella segment is projected to grab the maximum share in the overall revenue of the global umbrella market. There is likely to a huge demand for small size umbrella including three fold umbrellas, thanks to the incredible portability that these umbrellas will enjoy.
Uncertain weather
The demand for custom umbrellas as promotional giveaways has indeed been on a steady rise. It Is attributed to the uncertain weather conditions and growing awareness of the health risks posed by UV rays.
Further, reports show that 132,000 cases of melanoma skin cancer are reported every year around the globe. It is raising the need amongst the individuals to use umbrellas to stay safe from the deadly radiations of the sun.
A fashion accessory
Umbrellas have become one of the happening fashion accessories apart from being just basic functional . From wedding umbrellas to inverted umbrellas and hand free umbrellas, you will find a range of interesting models in different contemporary designs that bring together added aesthetics and vibrant colors. Additionally, with the advancement in fabric technology, designers are adapting to a wide range of available fabric materials for the canopy of the umbrella. Some of the innovative designs include music umbrellas and cooler umbrellas that will offer much more than an ordinary umbrella.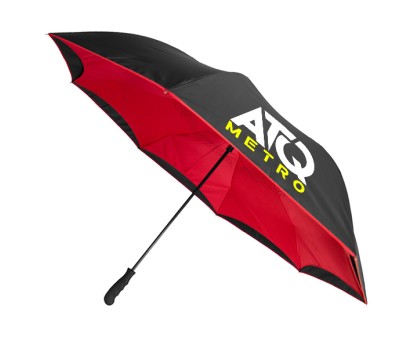 Moreover, massive umbrellas like beach umbrellas are useful for several companies in public places for the promotion of their brand. The incredible potential of umbrellas as promotional items has  been a key factor in driving the  growth of the global umbrella market
Here are some interesting umbrellas models that you can consider as promotional giveaways.
Hands free umbrellas
The C handle  of the umbrella will let the user balance the umbrella with wrists while freeing up their hands for other tasks like holding the phone or walking the dog. Available in a palette of colors, these umbrellas will indeed make a portable billboard for your message.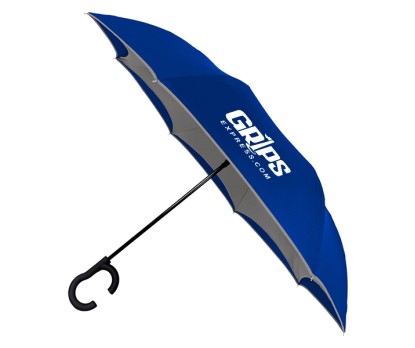 Inverted umbrellas
This innovative  umbrella will fold upside down, thereby holding the rainwater within its panels without spilling it over to the floors and car. Choose from a wide range of models including leopard print models to add a fun twist.
Looking for more? Browse our collection of custom umbrellas to choose a model that will suit your branding theme and budget.