Why Umbrellas are Effective As Promo Products
 Using logo items like custom umbrellas will make one of the very most effective means to increase brand awareness among clients and prospects . Surveys show that almost 3/4 of people surveyed prefer to purchase from a business that distributes custom gifts  at some point.
Umbrellas are long lasting and well retained; hence these logo items have an assured ROI, which is many times more than your original investment.  So, when you provide your potential clients  a useful item they can carry  around;, you will also be reminding all those people daily of your company brand.
Moreover, in today's highly competitive business world, every small step that will beat the competition counts. Another great thing about branded umbrellas. is that they are also available in a wide variety of sizes, shapes, and colors.
 Here are a few of the most popular branded umbrellas. which can give your company a tremendous promotional boost.
Inverted umbrellas
Forget about the rain day woes caused by a wet umbrella. by investing in this inverted umbrella that will fold upside down. Choose from a wide range of models and colors.
Mini umbrellas
Further, everyone need a  good quality mini umbrella for their every day use. Ideal for work, home and commute, these compact umbrellas in a wide range of popular colors; will indeed make a walking talking billboard for your brand. Moreover, you can literally get long term built-in promotional value from it.
Golf umbrellas
Golf umbrellas printed with your company logo and  name will get your message across to a large number of people. Ideal for golfers and even those who do not have a penchant for golf, these popular umbrellas are ideal for all types of promotions. Choose from a wide range of models, including full color dye sublimation models that your recipients can't help looking repeatedly in the coming days.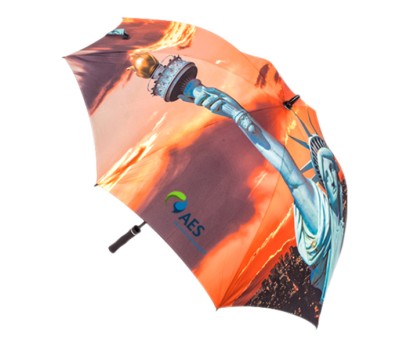 Multifunctional models
Practically everyone uses umbrellas these days. So, why not add a fun twist to an ordinary umbrella with these music umbrellas. It will bring together the dual advantage of an umbrella and your favorite music wherever you go. Also, choose form a palette of colors, customize with your logo and you are all set to make heads turn.
Hands free umbrellas
Hands-free umbrellas are probably more popular than ordinary umbrellas; these will help the recipients to hold the umbrella while leaving their hands free. Make use of the large imprint space in the center, which can carry a logo or some informational content that will let your recipients know the provider of this useful carry item.
Looking for more? Browse our complete line of custom umbrellas to choose a model that will match your needs.