Trending Custom Umbrellas For Fall Season Outdoor activities
Fall season is almost upon us! Celebrate the leaves changing color and nature at its festive best in shades of Orange and Brown. As the days will get shorter, and evenings will grow chillier and pleasant, it  is a great time for most people to consider their favorite  outdoor activities like hiking or camping without being sweaty. No matter whether it is an evening barn dance to the fiddle music or a scenic drive along the stunning mountain roads and woods, there is a lot to look forward to in fall season!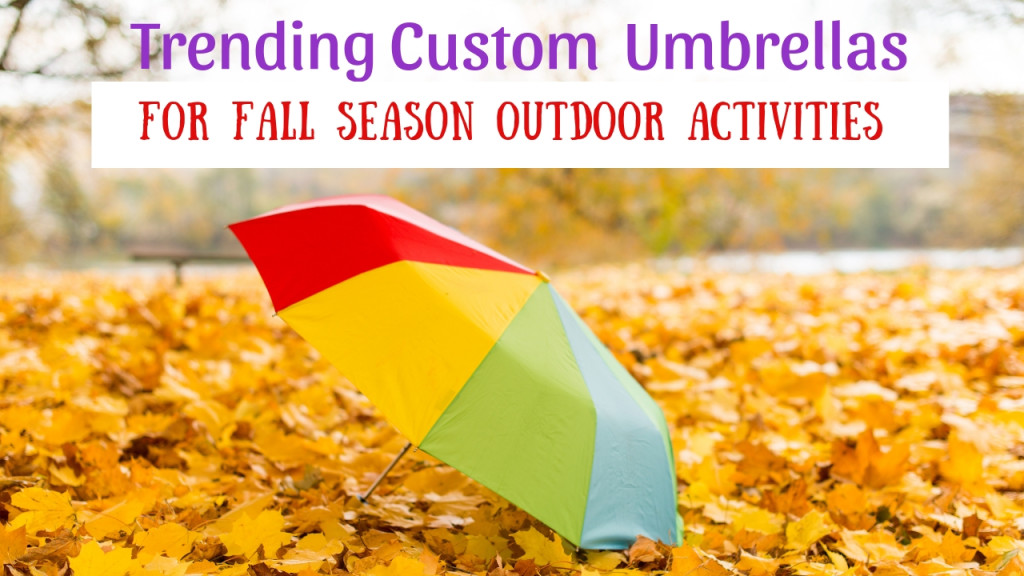 For businesses too it makes a great time to place their brand on a proud parade by handing out attractive custom gifts that complement the season. Fall season is well known for its unpredictable weather including  the evening showers and chill. So, custom umbrellas will make a highly useful gift item to promote all types of events and products. Offered in a range of trending models, custom umbrellas will grab easy attention of everyone thanks to its brilliant color choices and designs.
Here are some of the trending custom umbrellas for your promotional mix this season
7 Ft Promotional Aluminum Market Umbrellas: Street corner marketing, outdoor business events or corporate golf events- Whenever you need a sprawling cover over the heads that do not get blown over by the autumn wind, look no further than these massive umbrellas that look good and last long. Your brand on this will give your business a high decibel promotional advantage.
Music Umbrellas:  No matter it is tail gating parties, picnics and outdoor fun- when you have these music umbrellas you will have all the fun in the world. Stay safe from the weather blues without compromising on the fun element with these fall season masterpieces
Telescopic Folding Umbrellas: Offered  in a range of attractive colors, these small yet sturdy umbrellas will make a perfect choice for people on the move and travelling executives. Your brand on these will get talked about more often than you thought!
Splash of Color Golf Umbrellas: Great for the golf greens and daily use, these colorful golf umbrellas can hold more than one person, thereby making a high value gift for your recipients.
Fiberglass Patio Umbrellas: Turn the patio into your partying  ground with these sturdy fiberglass umbrellas that will stand upright even in hostile weather conditions. Your brand and message on these will get a lot of attention for sure!
Umbrella with High Stand Cooler and Speakers: An umbrella that comes with all the party paraphernalia like coolers and speakers will make a dream come true for any party enthusiasts. Put your brand on grab the attention during tail gating parties and events.
If you have used custom umbrellas for your fall promotions effectively, do share your success tips and ideas at our facebook page and join the conversation.