Types of Umbrellas for Different Users
If you take a closer look at some of the most effective marketing techniques, you can see a clear pattern of repetition. That is why items that are regularly in use such as the umbrella will make great practical tools.
The massive canopy that doubles up as a great creative canvas for your message is the highlight of umbrellas. Think of coming up with interesting artwork, logo and message to advertise your brand and reach out to a different audience every time it is used.
It can be a lot more budget friendly to spread the word among the local audience using custom umbrellas than  other promotional products like print or TV advertising. The typically long life span of custom umbrellas is another factor that will work in your brand's favor. Everyone needs umbrellas to stay safe from bad elements. So, your message on it will get a lot of attention and appreciation from your audience.
Custom umbrellas are effective marketing tool that not only promotes business for the long-term but also create new leads and enhance customer loyalty. Umbrellas are also available in  a wide range of models to offer something special for everyone. So, marketers can choose an appropriate model that will complement the life style of the prospects.
Here are some popular models
Golf umbrellas
Further, the impressive canopy gives plenty of room to add a brand, logo, or design. Choose golf umbrellas from various models including full color dye sublimated umbrellas that will make heads turn literally. These umbrellas will make a high visibility billboard that stays visible not just on the golf course but beyond the greens as well. It is a popular choice during holidays, road trips and picnics.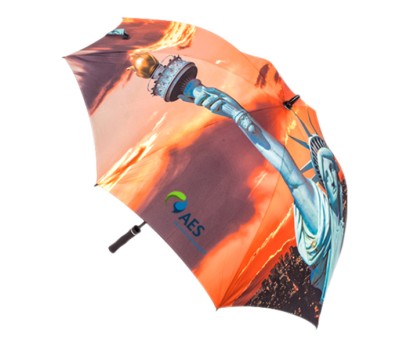 Mini umbrellas
Handy and portable, these umbrellas are great to take anywhere on the travels. Thanks to the increased portability, these umbrellas are likely to be used and carried around more often, which in turn will take your message out to the wider audience. Available in a wide range of colors and prints, these umbrellas are easy to customize as well.
Anti-wind umbrellas
Gone are the days when managing umbrellas in windy conditions was a nightmare for everyone. These high-quality umbrellas will withstand the bad weather conditions with ease to leave a lasting impression in them.  The reinforced design and fiberglass ribs and frames will make it a long lasting item for sure. Make lives easier of your prospects with these wind resistant umbrellas.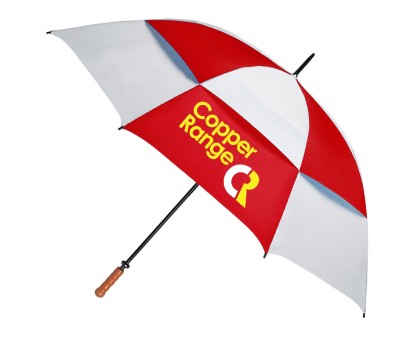 Inverted umbrellas
Forget about the mess that a wet umbrella can cause with these inverted umbrellas. The unique design of these umbrellas make it fold upside down, which will trap the rain water within its folds without spilling it on to floors and cars
Looking for more? Browse our collection of umbrellas to get started on a sure footing.