Umbrellas Are Giveaways That Truly Stand Out
Promotional items make an incredible part of the marketing strategy of most businesses. Popular handouts like umbrellas help them to reach out to the masses and spread awareness about their products and services.
The large canopy of promotional umbrellas will also make it stand out the most. These high quality and well retained gifts are visually appealing and practical as well. In addition, these custom giveaways will keep your message in front of the audience all round the year. Thus a good quality custom umbrella will make consistent impressions at one time investment.
High visibility imprint space
Probably what makes custom umbrellas a cut above the rest is its generous imprint space that will highlight your logo and artwork.  If you are looking for an understated way to customize umbrellas, you can choose to add your logo on the handle or the inner canopy of the umbrellas
Return on investment
The high utility of umbrellas will make consistent impressions for your brand and boost your outdoor brand exposure.  Everyone around will get engaged with your brand and message on umbrellas.
Fun to customize
Everyone likes to have a gift that is eye pleasing and practical alike. The massive imprint space of umbrellas will set a great backdrop for your brand and message. Come up with an interesting artwork and design that will surely catch everyone's eyes.
Incredibly Practical
Everyone will love to have practical promotional items that can be used every day in their lives rather than novelty items with low utility. Thus umbrellas will easily tick the boxes of an ideal custom gift that is highly useful.
Doubles up as Fashion Accessories
Umbrellas are not just functional but fashionable as well. Anyone would love to show off these accessories as they indulge in their outdoor pursuits. Umbrellas are popular as fashion accessories and even media props. So providing the best quality umbrella  will make a unique way to reach out to your customers.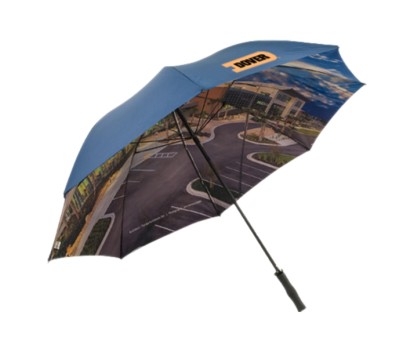 Popular among a Wider Audience
One of the major reasons why brands prefer promotional umbrellas for advertising is that they enjoy a universal appeal. People of all age groups and demographics will find umbrellas useful in their everyday lives. Thus investing in promotional umbrellas is a proven marketing strategy for brands.
Useful all round the year
Unlike custom giveaways that may be relevant is specific seasons, umbrellas come handy in all types of weather. The best part is that when bad weather stops most promotional activities, logo umbrellas will continue to popularize your brand even in less than ideal weather conditions.
Wish to know more about custom umbrellas as branding tools? Watch this space for our daily blog posts or reach out to our products experts to stay on top of the trends.