Umbrellas Make Great Appreciation Gifts
Umbrellas are functional in more than a way. Apart from shielding the users from elements, it can also be used as a safe distancing tool in the new normal world.
So why not show your employees and clients that you care about them with custom umbrellas. Printed umbrellas make elegant corporate gifts for even high value clients and blue chip events where ordinary handouts may not be enough.
Why umbrellas make great giveaways
Portable
Since everyone needs an umbrella, your recipients would appreciate receiving one, regardless of what industry you are in. Moreover, umbrellas are available in a wide range of models  that range from pint sized mini umbrellas to massive beach umbrellas. Choose models that are portable enough, to fit inside the bags of the prospects to ensure better utility.
Sturdy
Umbrellas also enjoy a durable design. Choose  from a range of canopy fabrics including nylon, polyester and pongee; and frames like fiberglass and aluminum to suit your needs. Ideal for the rough and tumble of everyday outdoor use, umbrellas make value added giveaways that are hard to resist. In addition, your  message on  umbrellas will get a wide angle display- no matter whether it is rain or shine.
Easy to customize
Marketers can easily customize umbrellas to enhance their brand recall!  You can print your logo and message on the canopy, frame and even the casing.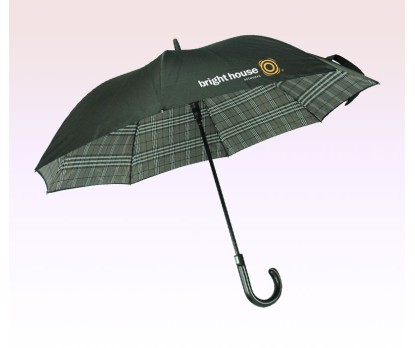 Brand Awareness
Custom printed umbrellas are indeed a great way to catch onlookers' attention. Massive and colorful, umbrellas are used frequently, which in turn will keep your brand on top of consumers' mind.
Limitless options
Umbrellas are available in dime a dozen models , which ensure something special for every life style. For instance if you have a golfing audience to cater to, look no further than golf umbrellas. Available in various popular models like full color umbrellas and square canopy models, golf umbrellas offer  a lot of interesting choices. Options are all yours when you have versatile handouts like umbrellas on hand.
Versatile
The best part of umbrellas is that these will never look out of place in any promotional context. No matter whether you wish to use it as employee gifts, or referral giveaways, umbrellas will  get a lot of appreciation and attention. So, if you are looking for a custom gift that will go well with every promotional plan, look no further than custom umbrellas.  Consistent impressions and long shelf life will work in favor of your branding for sure.
How do you plan to use custom umbrellas as marketing tools? Share your thoughts with us on our facebook page.