Umbrellas Make Unique Gifts that Work
Umbrellas may not ring a bell as a promotional swag for most marketers due to its slightly higher prices.
However, this premium range of giveaways of umbrellas will make a perfect choice to impress high value clients and business associates. Undoubtedly, when you need something extra ordinary in custom gifts, put your cards on umbrellas.
Custom umbrellas are handouts with indeed a high perceived value. Moreover, the high retention of over 14 months and the regular impressions that these everyday items make will make it a perfect branding tools. If you are looking for giveaways with assured ROI, look no further than these popular gift choices.
Auto open umbrellas
Reliable in heavy rain, auto open umbrella is clearly a favorite choice of the busy crowd on the city streets. Choose vented models that are built to withstand heavy wind resistance; meaning your clients won't have to battle an inside-out umbrella in the next storm.
With a simple push-button automatic release, these umbrellas will come to the aid of the user in the event of sudden showers. It's slightly larger than others on the market, but is still compact enough to fit in a handbag or backpack when travelling.
Standard umbrellas
A perfect model for the travel bags and everyday use, these light weight and compact umbrellas make a popular choice in custom gifts. Besides, it is available in a wide range of popular colors and sizes, these umbrellas will take your message far and wide for sure.
Golf umbrellas
Golf umbrellas are  especially perfect to stay dry in a heavy downpour and hold chivalrously over a friend. Light weight yet sturdy, these umbrellas make a great choice  during travel for those just in case moments and bad weather woes. It is available in various models like solid colors and alternate panel colors. If you're feeling more adventurous, pick up  these full color  umbrellas.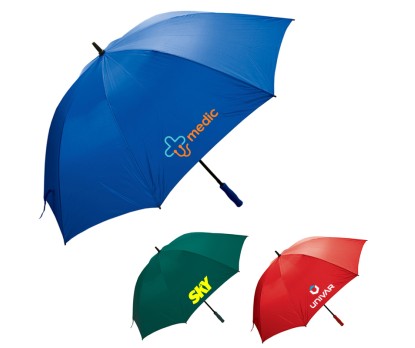 Transparent umbrellas
Thanks to the funky full coverage dome design you feel like you're in a bubble. The transparent cover means that – you aren't getting wet and get the most coverage and incredible visibility. The design is impressive with fiberglass ribs for flexibility and strength in high winds.  It is a great choice as party favors and wedding gifts as well.  Your brand imprinted on these dramatically beautiful umbrellas will get a lot of eyes for sure.
Travel umbrellas
Compact, yet large these umbrellas will give your prospects peace of mind even in heavy rain and wind. Designed to withstand the elements, these umbrellas could be slightly heavier than other compact umbrellas. Some models come with a storage case. And despite its compact size, it still has a canopy big enough to shelter two people. Choose from various models like those with automatic open and close button means it's quick and easy to use.
How do you plan to use custom umbrellas as your promotional swag.