Umbrellas make Unusual Gift ideas for Valentine's Day that will surprise your recipients
The mere mention of Valentine's Day will conjure images of red roses and chocolates for most people. However, for those who are looking for something off the beaten track, will find these custom red umbrellas a perfect choices. It will make a perfect promotional gift to reach out to your women patrons or to promote fashion brands or special deals. Highly functional, umbrellas make simple gift items that enjoy a high retention all round the year. Be it rain or shine, everyone will surely love to show off their wild side of personality with these custom red umbrellas. Personalize it with your brand and message and see how these logo items will make your brand the talk of the town!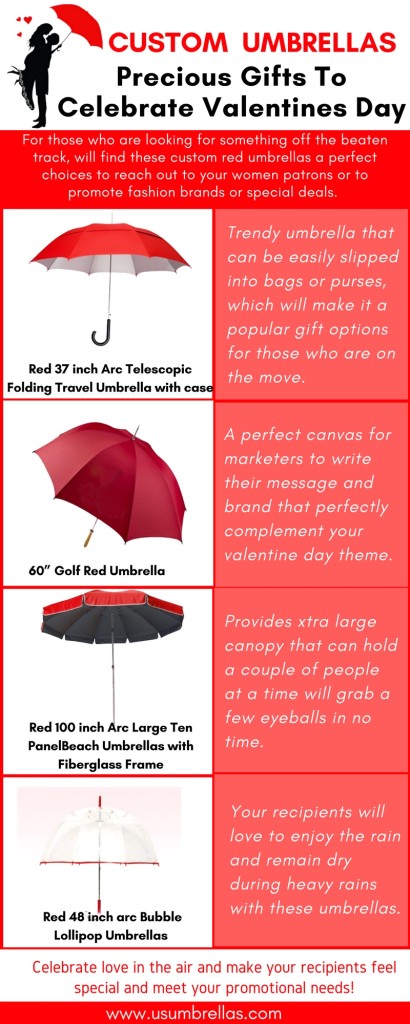 Looking for something trendy? Check out theseRed 37 inch Arc Telescopic Folding Travel Umbrella with case. This umbrella can be easily slipped into bags or purses, which will make it a popular gift options for recipients who are on the move. auto open red umbrellas is another great choice to consider.
Red 48 inch Arc UVdefyer Umbrellas will make a sensible option for the summer sun. Though the UV resistant feature of this umbrella will make it a perfect choice during summer, it is equally effective during wind or rain as well. Some of the features to die for include automatic open function, UV protection SPF 50 Plus, 48" arc red polyester fabric, vented canopy, steel frame, Blackwood crook handle, and red shoulder strap sleeve.
Paint the golf greens red with these eye piercing 60" Golf Red Umbrella that will perfectly complement your valentine day theme. Personalize these umbrellas with your brand and message and see how your artwork will stand out against the solid colored background. The massive canopy will make a perfect canvas for marketers to write their message and brand and the best part is that these will be visible from even a distance. These will make great options to promote fashion brands, apparels, bars or gift shops among others.
Looking for something subtle without losing the red tinge of Valentine Day ? Look no further than these Red 48 inch arc Bubble Lollipop Umbrellas. Your recipients will love to enjoy the rain and remain dry during heavy rains with these umbrellas. The steel windproof frame well complemented by a beautiful 48" arc clear- red bordered canopy with part red handle and ferrule and trim will make this umbrella a visual delight. Personalize these with your brand and message to enhance the beauty of this gift.
Red 100 inch Arc Large Ten Panel Patio/ Beach Umbrellas with Fiberglass Frame is another model worth a closer look. Your recipients will love to use these brilliantly colored beach umbrellas with fiber glass frame and extra large canopy that can hold a couple of people at a time will grab a few eyeballs in no time. Customize these with your brand and message and ensure a wide angle display and repeat brand impressions.
Need more? Just browse our extensive collection of custom umbrellas and you will get a model that suits your needs in just a few clicks. Shop right away and do tell us which model you are planning to employ during your Valentine Day promotions.