Why Your Business Needs Personalized Umbrellas
Custom umbrellas are versatile handouts with a high perceived value that will impress even your recipients who may have everything in life. If you are looking for a perfect handout for your high value clients, long term employees or business partners, imprinted umbrellas will make a great choice. Offered in a wide range of models and sizes, umbrellas offer something special for every need and budget.
Umbrellas are Versatile
Umbrellas are a great investment for any business because these are versatile handouts. Businesses can use umbrellas imprinted with their logo and message to the recipients to enhance brand loyalty, make the team stand out and enhance their brand visibility alike.
Everyone will find umbrellas useful in their everyday life, which means anything imprinted on it will be seen regularly by people around making your business more memorable while boosting your ROI!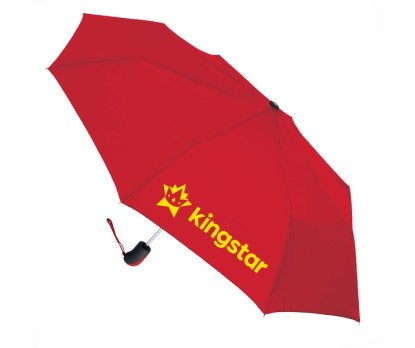 Umbrellas Foster Team Spirit
Whether at corporate golf weekends or game days , custom umbrellas builds team spirit and  remind the employees that they're working toward a common goal. Custom umbrellas are a great way to remind employees that they're part of a team. Not only will they be seeing your business information regularly but they are more likely to feel brand proud as well.
Customized umbrellas often double up as a conversation-starter as these are available in a wide range of models and colors. You can stock up in surplus for bad weather days for your customers who may not have their own umbrellas on hand!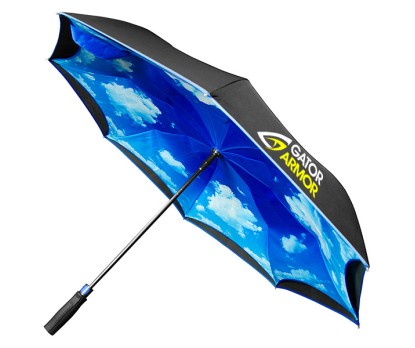 Umbrellas are Useful
Custom umbrellas aren't just an aesthetically pleasing promo product but are highly practical as well. Umbrellas not just protect the users from bad weather and UV risks but will help them to enhance their outdoor fashion trend and stay anonymous in a crowd should they wish !
 Umbrellas will complement other swag
Umbrellas will match the other promotional items that you may be planning to give out because these are useful all round the year and will go well with any seasonal theme. For this reason, personalized umbrellas make a perfect item for the new employee welcome kit, outdoor swag or  game day essentials. Umbrellas are one of the most useful items out there, so including these in any promotional event is a no-brainer.  The massive imprint space of umbrellas will help you to take your branding strategies to the next level with minimum effort.
High visibility
People carry umbrellas wherever they go especially during bad weather. Thus, custom umbrellas can help to get the name of your business out to others and make your brand memorable. Custom umbrellas will also keep your team stand out in outdoor events and trade shows, which makes the audience more likely to ask them any questions that they may have.
Get Personalized umbrellas today as these are a must-have for your business. Have more queries  on how to use custom umbrellas during promotions? Feel free to contact us for more tips.