Why umbrellas are Safe Branding Tools
Umbrellas featuring unique promotional slogans and artwork remain one of the best-selling choices in marketing merchandise.
Whether it's summer or winter, a school or a bank, custom umbrellas do make an impact with audiences. Here are some solid reasons why custom umbrellas  are such a great promotional product choice for local businesses and groups.
Umbrellas make Walking Billboards
The biggest advantage of promoting your brand on promotional umbrellas is its high visibility. When your recipients use these umbrellas, everyone who comes into contact with them will also see your branding. Moreover, everyone needs umbrellas whenever they are outdoors. So, you can imagine the impressions that your brand printed on umbrellas will get! Your message will indeed be seen by hundreds of people every time they are used. It will indeed offer a unique level of exposure that works even better, if the design is eye-catching. Custom umbrella  is a guaranteed head-turner no matter your industry!
Large  Branding Areas
One of the benefits of promotional umbrellas is  the massive imprint space. Thus umbrellas are ideal for even bigger artwork and taglines. Take advantage of this prime advertising space to get your brand noticed wherever the umbrella is used!
High retention
Did you know that umbrellas have the highest retention of 14 months? So, you can very well imagine the number of impressions that these logo items will make during its shelf life. Plus, umbrellas are portable and follow the recipients wherever they  go. Thus your brand will get incredible publicity across a large audience group,  much wider than the targeted customers.
Practical
Custom umbrellas are something everyone needs all round the year. Whether  they are commuting to work or on a picnic or golf holiday, umbrellas make indispensable items for the outdoorsy audience.
Another thing about promotional umbrella that makes it so great is that it makes great team spirit swag for your employees or sports clubs. No matter what your event or industry is, bulk branded umbrella  can brighten up the days of your clients. That's what makes these logo items so versatile.
Limitless choices
Umbrellas have come a long way from being plain and black colored. Today, you can choose from a wide range of umbrellas in all possible models. From full color golf umbrellas to the inverted umbrellas and the transparent bubble umbrellas, you have a lot of interesting choices on offer. Match it with the needs of your target audience for best results.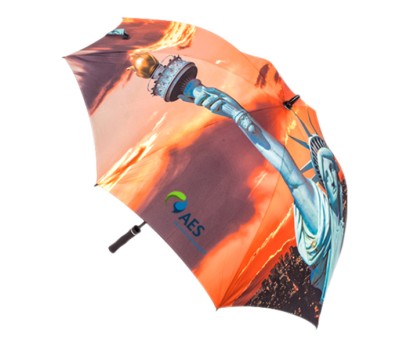 Planning to use umbrellas as your marketing swag? Explore our collection of umbrellas to choose a model that will complement your promotional theme.