A Buying Guide On Golf Umbrellas
Looking for the perfect golf umbrella that will keep you safe from elements and let you play your natural game?  Golf umbrella is any golfer's succor in bad weather. Designed to withstand the outdoor conditions and weather vagaries these massive umbrellas protect the golfer and the equipment with ease. The frames and ribs are built to withstand gusts.
 Golf umbrellas are not just for the greens. These make great promotional gifts because of their functionality and the incredible style and colors that go with it!  Golf umbrellas are available in various sizes.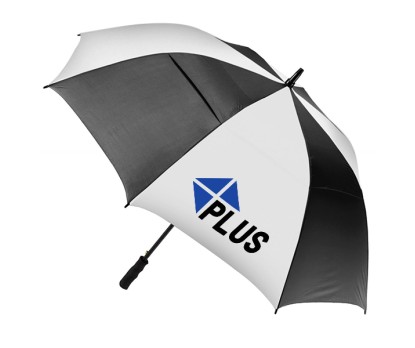 You can choose a size depending on where you are likely to use it and the level of protection you expect. A bigger size is recommended for a game on a golf course. It ensures more protection and more people will be able to take cover under these sprawling brollies.
However, if you plan to use your golf umbrella as a smart substitute for your regular umbrella, opt for a smaller size and lighter model that is easy to carry around in crowded streets.
Fabric
While it is obvious an umbrella is waterproof, the degree of water resistance can vary. Golf umbrellas are made of various fabrics like Polyester, nylon, pongee, and PVC and you can choose a model that matches your needs.
When compared, nylon is the most expensive followed by pongee while Polyester is the cheapest. Pongee has the highest durability, UV protection and water resistance.  So if you are looking for a reliable golf umbrella that will ensure optimum protection in sun and rain, pongee fabric will make a great choice.
Nylon has a smooth and wrinkle-free appearance while polyester canopy could have a rough texture.
While most golf umbrellas offer protection from sun, wind and rain there are a few models that are designed for specific weather conditions. For instance, a waterproof double canopy umbrella with reinforced construction is a great choice for high wind and rain.
Canopy design
Buying an umbrella also involves choosing between a single and double canopy design. A double canopy has a vented outlet that will allow the air to pass and reduce the force of the wind to prevent the umbrella from turning inside out. The vents also keep the users cool in summer by letting out the trapped heat. So, if you need an umbrella for gusty condition double canopy umbrellas make the best choice.
Frames
Sturdy frames made of fiberglass or aluminum will hold up well in extreme weather conditions. Golf umbrellas with fiberglass frames are favored for their high-wind and lightening resistance and flexibility. The lightweight and non-corrosive nature are the other advantages of these umbrellas.
Aluminum frames are heavy, tough, and economical.  The strong and durable construction of these golf umbrellas also make them best suited for commercial and residential applications.
Wooden frames enjoy a vintage look and are heavier than aluminum and fiberglass counterparts.
Operating Mechanisms
Auto-open and close feature on a golf umbrella allows quick and convenient operation, at the touch of a single button, which makes it ideal for the golfers.
Handle design
Make sure that the golf umbrellas you choose have ergonomic handles that distribute weight evenly and reduce strain on the hand. From rubberized handles to curved handles and non slip handles and more, there is indeed a wide range of handles to choose from. Polyurethane handles are the best as these are durable, comfortable, and waterproof. Foam handles may get worn out over time while steel handles are hard and uncomfortable. If you want to carry the umbrella in a golf bag, choose straight handle models rather than curved handles.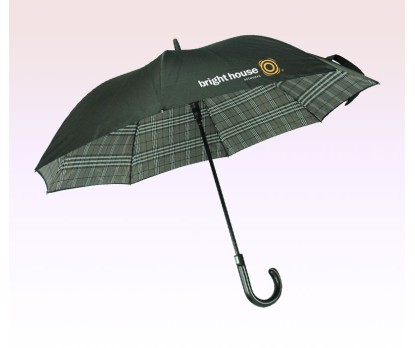 Now that you have some great selection points on hand, you can choose a golf umbrella that matches your needs and budget. Should you need more information on golf umbrellas to make a well informed decision, feel free to contact our products experts.