Branded Golf Umbrellas will Keep your Brand on Display- Rain or Shine
Branded golf umbrellas are great giveaways to clients all- round the year. The best part is that custom golf umbrellas will put your brand on a proud display even in bad weather when other types of outdoor promotions come to a halt!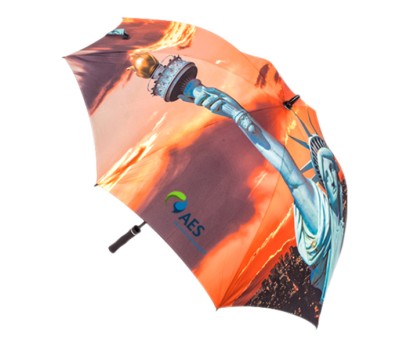 Logo golf umbrellas are  not just a must- have accessory in the golfers bag but make  a trendy way to stay dry for a group of friends or family members thanks to its massive canopy and stylish design. Offered in a wide range of models and colors including solid colors or alternate panel colors and full color canopy, custom golf umbrellas are indeed any marketer's delight. You can choose to get your logo and artwork on one panel or as many panels as you wish to get optimum visibility.
The main  benefit of using these custom umbrellas is the massive imprint space that it offers. Marketers can make use of this space to  put their brand, logo, or message on a wide display that is easily seen not just on the golf course, but also when used for other recreational activities.
Interesting models like full color golf umbrellas stand out for the whole canopy imprint space for your artwork to make a dramatic display. A favorite of people who are always on the move, these fashionable umbrellas make great props for your recipients  during snapshots and events, which in turn will get shared in their social pages to make your message viral online. It is an interesting situation where an analog gift item like umbrellas can stir up a storm in the virtual world!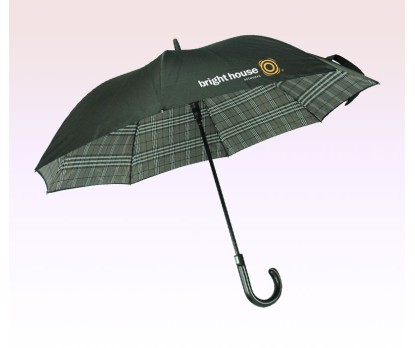 Custom golf umbrellas make a great marketing tool for all types of outdoor events thanks to its high visibility canopy and stylish designs. Whether it is to publicize a business event, drive a special sale, or launch a new product line, golf umbrellas will make a great choice to spread the word and build up a buzz.
Designed to withstand high winds, golf umbrellas have a sturdy yet light weight fiber glass  ribs and shafts that make it  lightening resistant and portable as well. These high quality custom golf umbrellas will leave a lasting impression among your audience and make a long-lasting marketing tool for your  brand.
Explore our complete line of custom golf umbrellas to make your upcoming golf themed event a grand success.