How to use custom Patio Umbrellas For Cafe Bars
For most people, fair weather season of spring and summer are a great time to hang out in café bars and coffee shops. To drive the crowd, coffee shops set up alfresco dining areas with a nice ambiance which makes it even more enticing to go to. Custom umbrellas are an easy and temporary way to set up a cozy corner for your patrons to enjoy coffee  in pretty outdoor settings.
Limitless options
There are many different sizes, models and colors to choose from in patio umbrellas.  Match it with your corporate colors to align perfectly with your brand or stick to the Pantone colors of yellow and great to make a statement. It is all about choosing an umbrella  that will fit best with the theme or color of the place. Wood frame umbrellas evoke a traditional feel and will go well with the bamboo blinds or furniture to form a natural setting.
Aluminum frame umbrellas designed for a sturdy and durable use are also popular models that can be considered. Apart from keeping the patrons safe from the weather elements, these imprinted umbrellas make a high visibility billboard for your business. Plus these will deck up the venue and make it more inviting. Cafes and restaurants that set up these beautiful umbrellas will definitely attract more customers and clients.
Having said this, commercial umbrellas are not just for café bars and coffee shops. It is for everybody who would like to have that perfect outdoor space in their place. These can even be perched in the backyard or the garden of homes to set up a picnic area or a party space. Music umbrellas with bluetooth connectivity and water resistant features will make a perfect choice.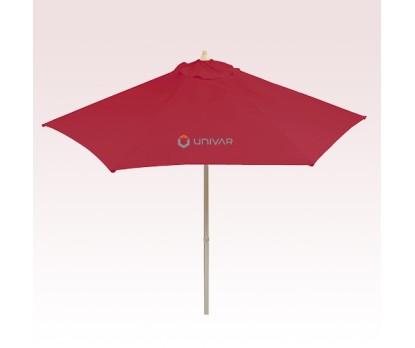 Enhance the outdoor settings
So, if you want your coffee bar to really grab attention from possible customers, make your outdoor space as inviting as possible through these large umbrellas. Outdoor dining is a crowd puller indeed. So, how good are you in utilizing the unused space to create an area that will capture more business with custom patio umbrellas? Logo umbrellas create memorable, authentic dining experiences, thereby making your café famous for yet another reason!
Improve online ratings
Outdoor seating is something your patrons simply love to fill up as it is closer to nature and away from the heat and noise of the café kitchen. The brilliant café umbrellas imprinted with your message will kick up a storm in the social media pages of your patrons, which in turn will enhance your online ratings. Potential customers will rate not just the food but the ambiance as well, which will all play a great role in determining your page rank.
How is your experience of using custom umbrellas in your café bars? Share your thoughts with us on our facebook page.