Custom Golf Umbrellas- Everything you need to know
Golf umbrellas are used not just on the golf greens but often used for outdoor sports, beach events, music concerts and more. This size of folding umbrellas is unbeatable, which will make the users feel safe and reassured.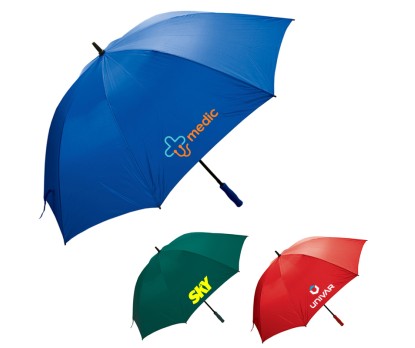 Durability: Golf umbrellas are designed to last long and perform better. Made of strong and durable fiber glass ribs and shafts, golf umbrellas make durable accessories that are impossible to miss. The best part is that golf umbrellas enjoy a business style design and elegance that will make it a great corporate gift choice for your high value clients and employees. Golf umbrellas often appear in crowded golf greens, high-end residential areas and clubs, which will further enhance the visibility of your message among the premium league of audience.
Compared to ordinary umbrellas, golf umbrellas enjoy fine craftsmanship and visual aesthetics, which makes it a perfect investment. Choose from various sizes and models including full color canopy, which will literally keep the audience stop on their tracks.  Anything imprinted on the massive canopies will create awareness in the minds of your audience even if they don't consciously take note of it.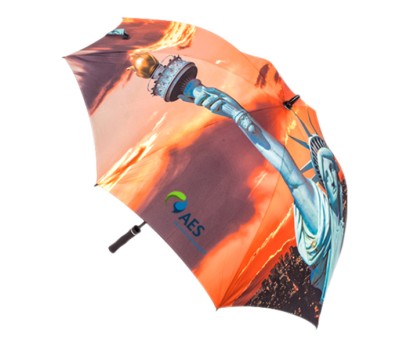 Why invest in golf umbrellas
Golf Umbrellas make high visibility marketing tools for creating brand awareness as well as promotions. Here are some features that win golf umbrellas a few brownie points extra
Big imprint space: The massive canopy of golf umbrellas makes it a great handout to promote anything – including an event, sale or promotion. Get creative with different designs and colors to stand out in the crowd.
Durability : Designed to withstand both sun and rain, golf umbrellas enjoy a high level of durability and shelf life. Marketers can pack these away till they need it the next time. Light weight, lightening resistant and moisture resistant, these umbrellas have ergonomic  handles that will ensure a firm grip for the users in heavy winds.
Perfect corporate gifts : Golf umbrellas make versatile corporate gifts that pretty much any kind of business can utilize.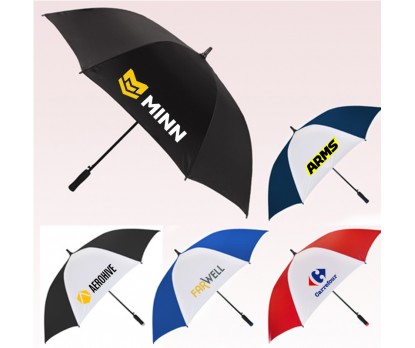 First impressions : First impressions are the best and last the longest – in both personal and business relationships. When you get your logo and message imprinted on golf umbrellas, it would set the right marketing tone without being overwhelming especially as it catches the eyes of the passers-by. Think about trade shows, golf days, even indoor events – these umbrellas can go very far away.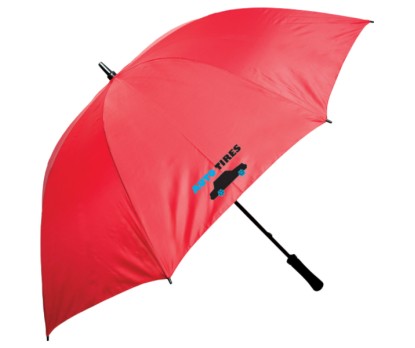 How do you plan to use custom golf umbrellas in your promotions? Share your thoughts with us on our facebook page.