Custom Umbrellas – Outdoor Branding Tools That Will Never Fail To Work
Promotional umbrellas are high visibility advertising products that are used in public. Ideal for rain and sun, logo umbrellas make smart promotional tools to increase your company's brand awareness.
Offered in various sizes and materials, custom umbrellas will go a long way in enhancing your brand visibility and popularity.  The massive canopy will offer businesses a fantastic potential to highlight their logo and message and to cater to their specific branding needs. Choose umbrellas in your company color, add slogan or contact information on, to get heads turn. If you like a subtle branding, you can imprint your artwork and logo in full color print inside the canopy of the umbrella to make it unique and interesting.
Umbrellas increase Brand Awareness
Every time your audience use custom umbrellas in public, your brand awareness will be enhanced. It will help people learn about the company through information or logos that are printed on the umbrella. Logo umbrellas are an excellent advertising product that pique quick interest and create more attention.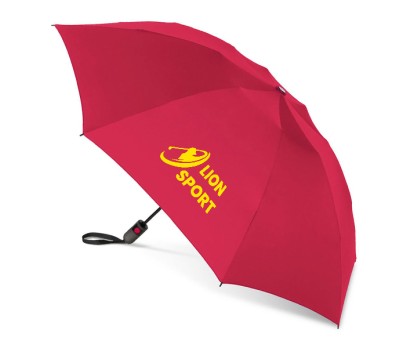 Why you need custom umbrellas?
Umbrellas are something everyone needs to stay safe from weather elements. Offered in a wide range of colors and models, custom umbrellas ensure unlimited exposure for your brand while keeping you safe from rain and sun. A promotional umbrella can take your message far and wide that technology cannot reach, thereby making it the best walking advertisement you should include in your ambassadors kit.
Protection from bad weather
Handy models like folding umbrellas are easy to carry around without taking too much baggage space. So, these umbrellas will cater to urban travelers and people on the move as much as golfers or beach enthusiasts. Offered in a wide range of models and solid colors, auto open umbrellas offer UV protection for the users while being a glaring billboard for your business. Win-win
Incredible customization options
Umbrellas can be customized in any way you want to make a good first impression. Whether you wish to add your logo, artwork or message, custom umbrellas will let the marketers to be as creative as they wish without being overwhelming.
A great talking topic
Custom umbrellas make unique and noticeable handouts that double up as talking topics among your audience. Anyone who happens to see your logo and message will be excited to know more about your brand.
How do you think will make use of the popularity of umbrellas in your branding promotions? Share your thoughts with us on our facebook page to join an interesting conversation