Custom Golf Umbrellas – Perfect Handouts For Every Event
There has been an abrupt shift and unpredictability in the seasons in all parts of the world including the US due to global warming in recent times.  When everyone has to tackle with extreme weather conditions and seasonal shits, custom gifts like logo umbrellas make a great choice for promoting brands and events.
Successful promotional marketing is always about taking advantage of the existing living conditions of people. Custom umbrellas will make a wise investment for marketers to park their promotional dollars considering its usability and high retention. A proven staple of the promotional product  industry, custom umbrellas have many benefits outside the traditional attributes inherent in an umbrella.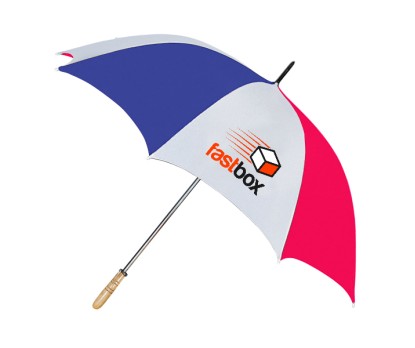 Apart from making a great personal gift it makes a great weather wear item that protects the clients from the elements. Umbrellas are highly visible items; every time your recipients have to step out of their homes in downpour or sweltering heat, umbrellas will serve as reliable protection.
Nobody can overlook the  highly visible umbrellas canopies. Offered in a wide range of colors, prints and trending models, umbrellas have become fashion accessories for most people today. Gone are the days when umbrellas used to be black, plain and bland weather protection items that people had to use to stay safe from the elements.
Today, everyone is excited to show off their collection of fashion forward and stylish umbrellas in a range of  patterns. Your recipients can even match it with their dressing style. The happy expression on the on the face of your recipients who are  lucky enough to be huddled beneath their personal protective canopy is the best testimony of the popularity of  imprinted umbrellas.
Why golf umbrellas?
A custom printed golf umbrella is a clever choice for a number of reasons. Firstly they are built for rugged outdoor use and will withstand high winds and gusty conditions than an ordinary umbrella. The multi colored panels on the canopy will grab the attention of anyone who happens to see it. The high visibility makes it a suitable choice among umbrellas.
fashionable , colorful and massive, golf umbrellas are  probably more popular beyond the greens these days. A hot trend among friends, families and outdoorsy clients, golf umbrellas make  a handy choice for a group of 2-3 people. call it convenience; most people prefer to carry just one golf umbrella on a bad weather day instead of one for each member in the group!
 The fact that many golf umbrellas have flexible shafts and rib that makes it more durable and effective against the worst knocks w is another reason for you to make golf umbrellas your promo items. Antiwind and lightning resistant features  make golf umbrellas a safe bet for the players in the wide open greens while your brand gets a perfect display board.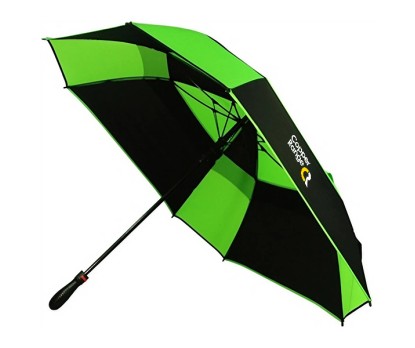 Now that the fall seasonal showers and the winter frosty winds are not far away, custom umbrellas make meaningful gifts that your recipients will find useful for a long time. Make sure to order in bulk so that you have a stock of custom promotional umbrellas on hand for your clients and customers.