Golf Umbrellas- An incredible journey from The Greens To The Advertising World
Golf umbrellas were originally designed to keep the golfers safe from bad weather woes during the game. However, today golf umbrellas are not just for the golfers. Probably it is used more often for promotional purposes than on the greens, which will highlight the behemoth popularity enjoyed by these umbrellas.  These can be effectively used to announce deals, spread social awareness, raise funds and even promote team spirit. The massive canopy can be imprinted with your tagline, mascot or artwork that grabs the attention of everyone from a distance. These are especially well suited for street corner meetings, promotions or tradeshows and to l add a pop of color to even a  low key affair and make people pause and take a closer look.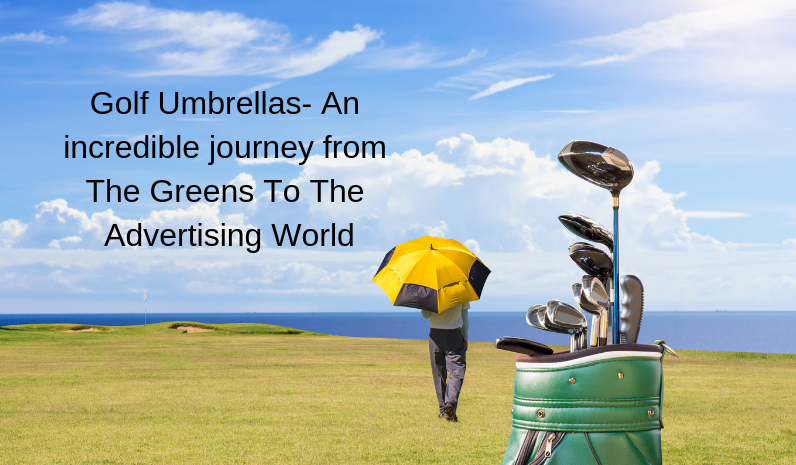 Golf umbrellas imprinted with your brand and message will make high decibel promotional items that will take your message right into the middle of the crowd and get people talk about your brand. Your message will get a lot of attention among the keen audience watching the golfer take a swing.  Golf umbrellas can be used as employee gifts, referral gifts or milestone handouts. Everytime your recipients use these massive and panoramic umbrellas on the beach, picnic ground or backyard parties, your brand and message on these will get a wide angle display.
Choose premium quality umbrellas that will stand the test of time. Vented models like 62″ Windproof Customized Umbrellas  that feature double canopy windproof frame, fiberglass shaft and frame, EVA rubber handle, and matching nylon sleeve will put your brand on a wide angle display even on a bad weather day when wind leaves other umbrellas into tatters. Being wind-resistant is an important feature for golf umbrellas to make them stand upright in the greens during hostile  weather conditions.
Another model to consider include 58 inch Arc Vented Economy Umbrellas with automatic open function, nylon fabric, windefyer vented canopy, and shoulder strap sleeve. These umbrellas will keep the players feel reassured that their game will not end half way and will make a great hand out to let  your recipients know how much you care for them.
60 Inch Arc Slazenger Cube Golf Umbrellas will stand out among  the  regular round shaped golf umbrellas thanks to its vented square pongee canopy with Slazenger™ branding and hexagonal print pattern. The fiberglass lightning resistant construction will make it a safe choice even in bad weather conditions.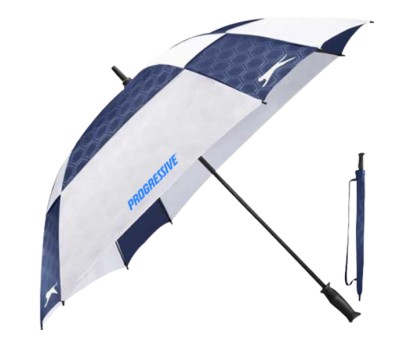 61 Inch Arc Wind Proof Heavy Duty Square Golf Umbrellas will make perfect handouts for golf themed promotions and events. Double layer windproof canopy, comfortable handle and square shape are the main highlights of these umbrellas that make portable billboards for your brand.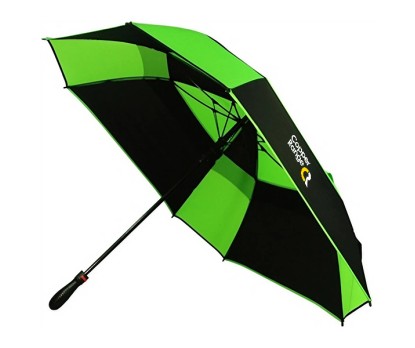 If you have not yet explored the promotional potential of golf umbrellas, it is high time that you get started with these crowd pleasing models. Shop right away!