Kids Umbrellas – pleasing to the eyes
Sometimes an umbrella can be plain and boring and no kid would love to have that. In today's unpredictable weather, even children should have their own umbrella. You will never know when the rain pours and we want you and your children to be ready during these times. Some umbrellas are only for adults due to some parts of the umbrella that is not safe for kids and that is why we have our Kids Umbrellas category. The custom umbrellas under this category are surely safe for children's use.
As parents, the main concern always is to protect you children from all bad elements and that includes protecting them from unpredictable weather. Always having an umbrella in your children's bag will be a great thing. All kid umbrellas that we have online are child friendly.
39 Inch Arc Personalized Kids Umbrellas with Hook Handle
This custom umbrella comes with a safety cover from all parts especially the tips. It also comes with a j-shaped handle and a name tag. It is an 8 panel umbrella with a 38" arc opening. This custom umbrella is made of 190T nylon material to assure you that even if the child is not careful in taking care of their umbrellas, it will not easily tear up. Since kids always love something colorful, they will surely love this custom umbrella because of its different color panels.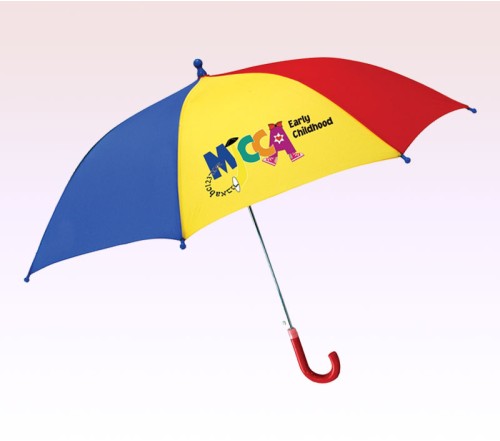 36 Inch Arc Bear Shaped Kids Umbrellas
Who would not love to receive a custom umbrella that is designed like a bear? This custom umbrella comes with ears that pop out; now that is fun to look at right? This comes with a metal shaft. You can easily spot your kid with this custom umbrella because they will surely stand out from the crowd with this one. This can be perfect as a birthday favor. Have it personalized with your kid's name and the names of his/her friends.
36 Inch Arc Cow Shaped Kids Umbrellas
Are you a business or store that caters to children? Do you want to have a fun promotional campaign? Well, these custom cow shaped umbrellas will be the perfect investment for you. Who would not love to receive this custom umbrella that comes in a cow design with the ears popping out? This kind of promotional item will help your customers remember you the way you want. Not only that, every time that kids uses these custom umbrellas, onlookers will see them including your brand name that you have imprinted on these umbrellas. Every day, this item creates impressions not only to its users but as well as to the onlookers. 53% agrees that promotional products create a more favorable impression of the advertiser.
36 Inch Arc Customized Penguin Shaped Kids Umbrellas
This comes with a curved handle for kids to have a perfect grip even when it is raining. Surely with these custom umbrellas, one will stand out from the crowd so does your business name.
All kids umbrella are made to cater to children, which means that each custom umbrella comes with a safety feature. Investing in these custom umbrellas will be one of the best thing you have ever done for your promotional campaign.