Custom Patio Umbrellas- Put Your Brand On A Wide Display
Patio umbrellas are dramatically attractive and massive enough to draw easy eyeballs. For this same reason, it make high profile branding options for businesses. Offered in various sizes and colors, patio umbrellas will get your message go the distance every time your recipients carry their favorite umbrella to the beach, picnic grounds or parks.
Versatile and incredibly popular, patio umbrellas  can be employed to promote any event or occasion with ease. Nobody can overlook your message imprinted on the massive canopies of patio umbrellas. Restaurants and bars can pitch up these colorful umbrellas outdoors to create an alfresco dining space in fine weather season.
Whether it is wedding reception, birthday parties or backyard events, patio umbrellas will ensure a temporary enhancement of the partying space to make it more enjoyable.
Here are a few tips to make your custom patio umbrellas an absolute crowd favorite!
 Choose the umbrella Size and Shape
The patio umbrella that you choose should fit into the location where it will be placed. Make sure to choose an umbrella with a canopy size that extend over the area you need to cover by at least five feet to provide maximum protection. Choose sturdy models to withstand the high wind conditions and outdoor elements.
Patio umbrellas are available in various common shapes like round, rectangle and square shapes. Choose a model that matches the shape of the party table. For instance, a round table needs a round-shaped umbrella for a perfect coverage. Make sure that there are no obstructions in the place where you plan to pitch the umbrellas. It should stand freely with adequate free space on all four sides.
Support Your Umbrella With a Stand and Base
Patio umbrellas may come with or without base. If you are choosing a model without base, you have to get a base and fill it with sand or stones for weight balancing.  The umbrella stand should be heavy enough to bear the weight of the entire umbrella without crumbling. Make sure to choose a quality stand made of sturdy materials such as wood, metal, or aluminum.
Durability is the key
As patio umbrellas are used in semi outdoor or outdoor locations, it will be exposed to weather elements. Choose good quality patio umbrellas that will withstand the outdoor weather conditions  with ease. When not in use, patio umbrellas can be kept folded to increase its life span and color quality.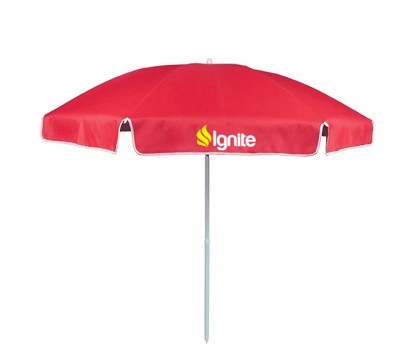 Custom umbrellas with fiberglass rib and frames are a better option than steel frames in beach areas where salty air and heavy moisture may persist. Fiberglass umbrellas are non corrosive and won't get snapped in windy conditions.
For more updates on custom patio umbrellas read our blog posts or follow us on instagram