Branded Auto Open Umbrellas- Leave Long Term Impressions
Custom products with high visibility and usability make the corner stone of a successful marketing event. While TV and newspaper advertisements have only a short shelf life, high utility gifts like custom umbrellas will take your brand  right into your audience to create high brand awareness.
Easy to carry in a bag, auto open umbrellas make a reliable weather wear item for your audience anytime, anywhere. The large canopy will make a perfect billboard for your logo; you can even place your message on the inner canopy or the carry case for added effect and a stylish way of persuasion.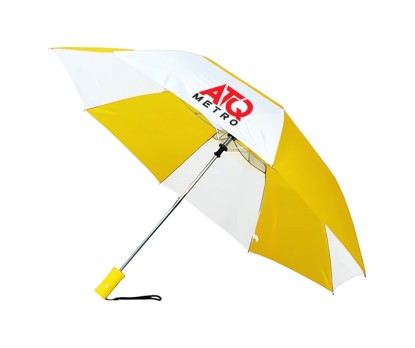 Offered in a large choice of colors and styles, these handy umbrellas make great handouts during store promotions or trade show. The press button opening and closing mechanism will make these umbrellas a perfect choice for the busy life style. Easy to operate even when your hands are full, these umbrellas enjoy a wide fanbase of people of all age groups.
Choose from a wide range of color choices. From understated shades for the classic audience to the vibrant and fashionable hues for the young and active crowd, you can choose the most appropriate models to cater to your target audience
Always in trend, umbrellas don't go out of fashion as well. So, if you have a surplus year end budget, you can order in bulk to get the best deals and stock up for your next trade show or marketing campaign. Your audience will appreciate such a useful giveaway item.
Auto open and close umbrellas are an incredible way to stand out and promote your brand in all types of weather. Practical and promotional alike, these make great handouts for your clients and customers. Unlike the static display boards and banners, umbrellas are generally on the move, which will take your message to a much wider audience.
Umbrellas are value added gifts with an average retention of over 14 months or more. Your message imprinted on these will make countless impressions during this period.  The big plus is the diverse customization options on offer. You can get your logo imprinted on one panel , on alternate panels or across the entire top section!
Auto Open Umbrellas are perfect outdoor marketing tools with the potential to be seen by hundreds of different people on both rainy and sunny days. Umbrellas travel easy with your recipients on the go. Businesses can choose these stylish brollies in their corporate color to make it more interesting.
Whether your recipients use it in outdoor events, trade shows, or on the streets, these stylish umbrellas will get a fair share of attention, which will leave your audience impressed. Kick start your outdoor promotions in style with these proven promo gifts.