Custom Golf Umbrellas- Get Your Logo Noticed Easily
Golf umbrellas are loved by everyone – not just the golfers. Thanks to its impressive size. anti-wind features and above all brilliant colors!
Designed to last long and perform tirelessly, custom golf umbrellas are powerful marketing gifts. Customize it with your logo, artwork and taglines that make it an eye candy among the outdoorsy crowd. Made of top-quality materials, custom golf umbrellas won't end up in a jumbled mess in high winds and will make a reliable. Light weight yet sturdy, fiberglass ribs and nylon canopies can withstand heavy rains and strong winds that golf greens are popular for!
Golf umbrellas are designed to cover golfers and their equipment in the greens. However these oversized umbrellas have evolved as a fashion statement all over the world especially among the youth. If you are looking for a popular giveaway for any business or event, custom golf umbrellas will make a great choice.  You can customize it for promoting golf events , game days outdoor fairs and gatherings. Large enough for a traveler and their luggage, or roughly 2-3 people, these umbrellas will make a glaring billboard for your brand even in crowded events.
Enhance your outdoor visibility
If you are attending an outdoor trade show, custom golf umbrellas imprinted with your logo will make sure your brand is both seen by prospects and customers.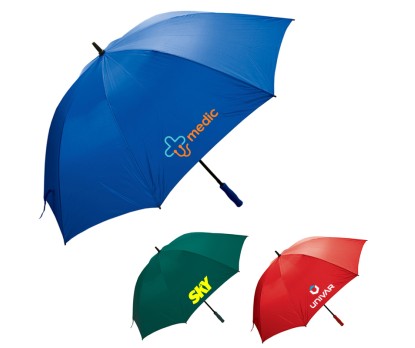 Leave a lasting statement On Any Audience
These eye catching personalized golf umbrellas can be a hit at any country club, hotel or resort to put your brand on a wide angle display. You can consider custom umbrellas as employee gifts, loyalty handouts or milestone gifts.  Umbrellas make versatile gifts that will never look out of place in any setting. The great thing about umbrellas is that everyone needs one!
You'll never have to worry about recipients finding value in your gift! Invest in this absolute crowd pleaser to get the best value for your promotional dollars. Make your customers and employees feel reassured and safe on a rainy day by handing out a reliable umbrella that will keep them dry. Needless to say, these custom gifts are an excellent way to show how much you care about your clients.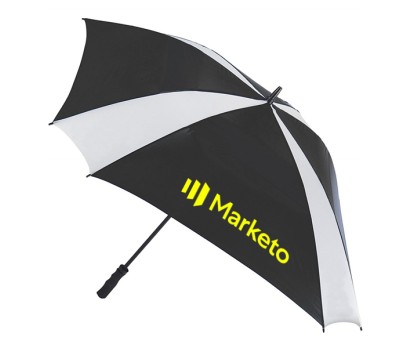 Choose from a wide range of  golf umbrellas to help you get the perfect gift to represent your business or organization and leave a lasting impression on your audience. Customize  bulk golf umbrellas so as to make it unique to your brand. Think of some creative ideas, taglines or artwork that can be imprinted on the massive imprint space on umbrella held high for everyone to see.