Custom Reverse Umbrellas – Stand Out in the Competition With Ease
Reverse umbrellas are a trend these days for some really interesting reasons. Designed to open and close in reverse, these umbrellas will not just keep the users dry from rain but also from  the water spills from a wet umbrella! The rain water will remain trapped within its folds to keep the room and car floors safe and mess free every time someone closes their wet umbrellas.
Apart from an innovative design, these umbrellas also take credit to different interesting colors and patterns. Whether you are trying to match it with your event theme or corporate colors or Pantone colors, these umbrellas offer ample choices. Here are some popular models that deserve a closer look.
Single Color Inverted Umbrella
The classic solid color canopy will go well with any apparel colors or trends. Plus the muted palette looks professional when your clients  carry it to work on a rainy day and highlight your brand in a perfect way Automatic opening and closing at the push of a button is the main feature of these umbrellas that open and close in reverse. Choose from a range  of solid colors to match the theme for a greater impact
Leopard printed inverted umbrella
Fashionistas will love these trendy inverted umbrellas! The top of the canopy is black, while the inner canopy flaunts a leopard print. Print your custom logo or design that will easily pop against the dark background. Your audience will love to show off their wild fashion sense with these leopard printed umbrellas that draw easy eye balls.
 Blue Sky and Clouds Inverted Umbrellas
Though on a rainy day the sky is dark and gloomy, your recipients can enjoy the delightful sight of blue sky and clouds when they have these umbrellas. The inner canopy printed with sky and clouds will make grab easy attention every time your clients are out on the streets on a wet and damp rainy day.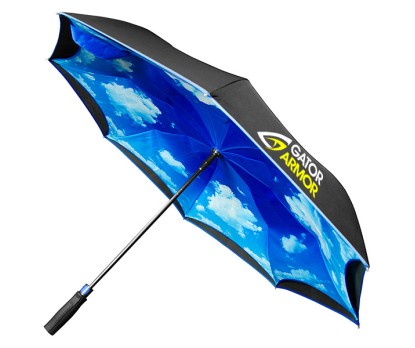 Double color inverted umbrellas
Clifford Inversion Umbrellas have a simple manual open mechanism with an inverted design. It  grabs easy attention for its classic Khaki underside; Get your logo and message imprinted on the underside for a subtle branding effect or on the outer canopy to make it bold. Options are truly yours when you have these versatile umbrellas that are hard to miss!
Neon inverted umbrella
It's hard to miss these neon colored umbrellas that add a pop of color on dreary, rainy  days. Choose from a variety of fluorescent shades including royal blue, lime green, orange, and fuchsia.  These brightly colored umbrellas leave a lasting statement not just in rain but in summer as well.
Need more interesting colors and patterns? Browse our complete line of custom reverse umbrellas to get the most appropriate model.