Golf umbrellas – Good things also come in big sizes
Gone are the days when golf umbrellas were only for the golf greens. Today, it has evolved to be  a staple in the high fashion streets, college campuses and even fashion ramps.
Golf umbrellas are offered in a  wide range of interesting models including double canopy models and those with vented design or wooden handle. Wind resistant and lightning resistant features of custom golf umbrellas make it just right for the wind swept open greens .The durable and water resistant canopy material of pongee or polyester is another feature. Quick drying and long lasting, these canopies will make sure the golf umbrella is always ready for its next use.
Available in various sizes, golf umbrellas can moreover be easily matched with the needs of the target audience.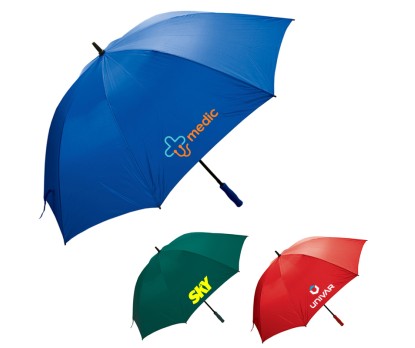 Why Umbrellas?
They Draw easy Attention
Since golf umbrellas come in different shapes, sizes, and colors, they attract easy attention.  So, your brand and message imprinted on these printed umbrellas will draw the eye from a distance. Golf umbrellas need not be the ultimate choice in unique gifts; however, they are useful swag that every company should take advantage of. A well customized golf umbrella will make a glaring billboard for your business, that will engage the audience with your message.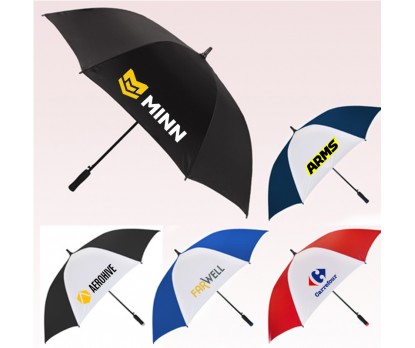 They are Durable
Golf umbrellas are a long-lasting and practical items that people use on a regular basis. According to research, umbrellas last up to 14 months or more on average, which makes it the longest-kept promotional product. Marketers can make use of the popularity of umbrellas by making them corporate gifts.
They are Practical
Golf umbrellas shield individuals from harsh weather conditions. These will make lives easier of your recipients as they go about their daily business. It would mean so much to employees if they had unique customized umbrellas from their employer. It will indeed make them brand loyal . Plus, just think of the exposure umbrellas get as employees travel for work or set out on holidays. Branded umbrellas will indeed take your message far and wide.
Golf  umbrellas are Strategic
Golf umbrellas have an impressive surface area where companies can add their logo, or message. Anything imprinted on these, will be visible even from a distance. The massive canopy will make an excellent creative canvas to position the brand to the best strategic advantage.
How do you plan to use custom golf umbrellas as your promotional swag? Share your ideas with us on our facebook page