Block the Competition With Logo Umbrellas
Stand out in the competition and keep the rivals at bay with impressive custom umbrellas.
Colorful, trendy and massive, custom umbrellas set a perfect backdrop for your brand and will make it stand out in style. Firstly, umbrellas stand tall. This means that your brand will get a grand visibility even from a distance. Secondly, it allows the brand to be imprinted 360 degrees, which means that your brand will get a dramatic display from all angles. Thirdly, it offers both shade and shelter, which means that your brand will get an incredible exposure during all 4 seasons!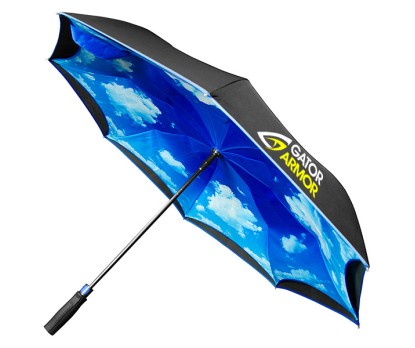 Why printed umbrella?
Prominent
Colorful and big, umbrellas enjoy a grand imprint space for your brand and marketing messages. Explore the best printing methods like sublimation or heat transfer depending on the canopy material. It will allow you to enhance your brand visuals with dramatically beautiful prints!
Fun to customize
Customize the design and color of the umbrella to make it uniquely yours. It will draw more attention to the umbrella and hence your brand on it.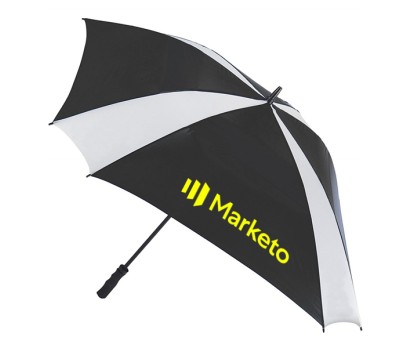 Long shelf Life
The average promotional umbrella can last for years if it is well-made. So, your marketing message will remain in front of the audience for a long time.
Highly Useful
Apart from keeping the users safe from elements, custom umbrellas also double up as outdoor fashion style.
Universal
Everyone needs umbrellas to stay safe from adverse weather and be outdoor ready. So, even if you have a diverse audience group that may be as different as chalk and cheese, you can confidently consider popular giveaways like umbrellas as marketing tools.
How to effectively promote brand with this custom printed umbrella?
Be Creative:  Umbrellas offer ample scope for you to spin off some creative ideas that you may have. Think of interesting taglines or artwork  that will pique easy interest and make heads turn.
Choose trending models: Umbrellas have indeed come a long way from being plain and black. Today , you have a wide range of interesting models to choose like full color fashion umbrellas, square shaped golf umbrellas and  inverted umbrellas among others. Marketers can offer something  unusual to grab the attention of their audience.
All in all, promotional umbrellas are effective in boosting your brand awareness. Browse our complete line of custom umbrellas in various models and price rates to complement your theme and budget. Should you need any further assistance, feel free to reach out to our team.