Custom Umbrellas as Real Estate Promotional Items
Choosing a promotional item that can also serve a useful purpose is an important consideration when marketing your business. Custom umbrellas are versatile and high utility custom gifts that will work for all types of industries including realtors and property developers. Whether you hand it out as client giveaways, promotional items or milestone gifts umbrellas fit all your promotional bills with ease.
Realtors can effectively use custom umbrellas as client gifts and as visual promotional aides.  You can choose from various models right from the handy mini umbrellas to the massive golf umbrellas and everything in between.
Promotional umbrellas are desirable giveaways as these are used daily and retained for a long time. Everyone needs umbrellas and on an average a family needs atleast 4 or 5 umbrellas  for their home, office , car, garage etc. So,  umbrellas will never outlive its popularity as promotional items
Available in innumerable color choices and prints, realtors can easily match promo umbrellas with their promotional theme or brand color. The massive canopy of umbrellas is undeniably the trump card of these promotional items.  Businesses get ample scope to turn their creative ideas into images and artwork on this massive creative canvas.
Golf umbrellas or inverted umbrellas customized with your brand and message will make a great choice for realtors while conducting property inspection for the clients. It provides a subtle way to promote their brand and protect the clients from the rain between property viewings. The best part is that when they have innovative models like inverted umbrellas, these won't leave the car floors wet when they are driving back to the office after property viewing on a rainy day!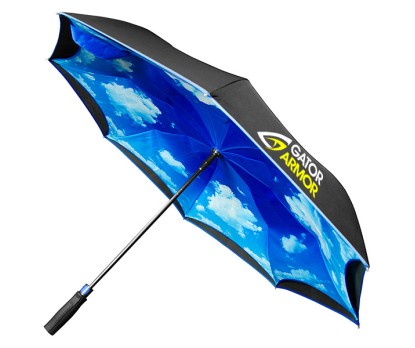 Map umbrellas will make a smart gift choice for realtors to highlight their locality and the  location of their office in a fun way.  Digital imprinted dye sublimation umbrella is another hot choice to consider. The vibrant and breathtaking images that stand out nicely off these umbrellas will give it a surreal beauty and ensure loads of attention.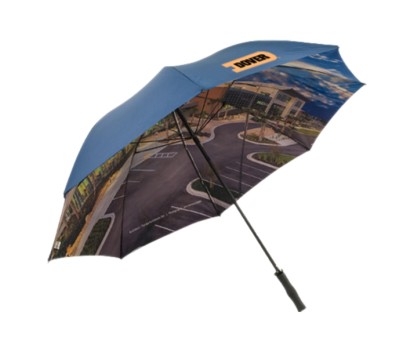 If you are planning to give umbrellas as client gifts, choose handy models like mini umbrellas that are easy to carry around in their bags. Looking for something innovative? Hands- free umbrella is a  good choice to consider. The unique design and the loop handle of this umbrella will let the users hold the umbrella all the while freeing up their hand to hold their phone or bag. Choose from a wide range of colors.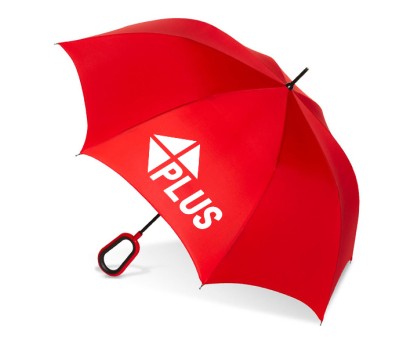 Antiwind umbrella is another handy choice for the wind-swept outdoors and the beach. Your logo and message will remain front and center of your audience even when gusts topple everything around. The high practical value of these umbrellas will make it an ace up the marketers.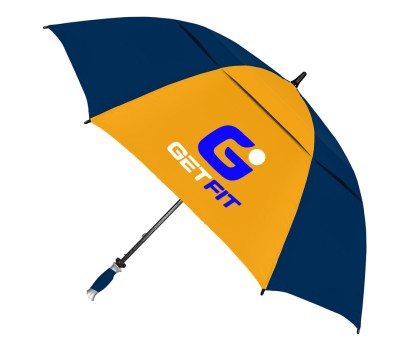 Browse our complete line of umbrellas to choose a model that matches your needs