A Quick Guide On Digital Printing And Dye Sublimation On Custom Umbrellas
Umbrellas have come a long way from being plain and boring black fabric weather wear items to fashion accessories and expressions of personality for people. Umbrellas are available in limitless options, colors and prints these days. From folding umbrellas to inverted umbrellas and hands-free umbrellas, these ubiquitous items have been evolving in tune with the changing life styles and fashion trends of the users.
Having a trending umbrella is the first step in impressing your audience for any business. However to get your message across in an emphatic way, you need to explore the latest inspiring and intriguing imprint methods and technology. Dye sublimation and digital imprinting has virtually thrown open the flood gates of creative possibilities for marketers.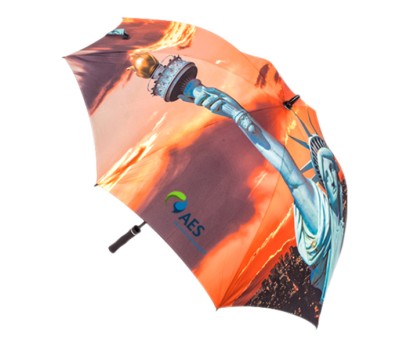 Dye sublimation
It is a method of printing umbrellas digitally and allows full panel print.  So, if you have been feeling constrained by the limited  choice of panel imprints, check out this possibility of edge-to-edge print for artwork using vibrant color, pattern or photos.
Digital imprinted umbrellas stand out for its dramatic appeal. Businesses that wish to gain easy eyeballs and consistent impressions at one time investment can consider these imprint options. The best part is that you can print the whole outer canopy with a massive design to make heads turn! Wish to remain subtle? Choose inner canopy full color imprints that will enhance the beauty of the umbrellas and engage the user with your message every time they walk under an open umbrella.
Sublimation involves the application of sublimation inks to the surface using a heat press. It will make the dyes penetrate the material to make a permanent, stunning full color image. Dye sublimation ensures long lasting effect and vibrancy  to the umbrellas.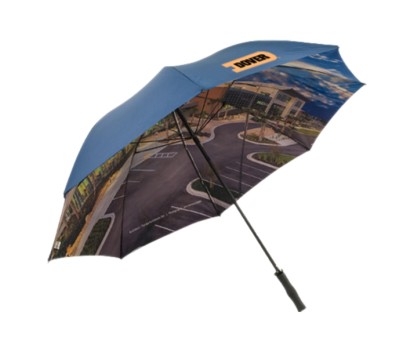 Benefits
Dye sublimation imprints will help businesses to attain dramatic full panel designs. You can even bring in creative designs, shading and graduation in colors or prints to ensure a stunning display. Your audience will simply love to carry these spectacular umbrellas wherever they go. Just imagine the exposure your brand imprinted on it will get.
Limitless possibilities
There is no limit to the number of colors that can be printed. So, let your creative juices flow to come up with an impressive display that will leave not just your audience awestruck but anyone who sees it will also be thrilled to see such beautiful promotional umbrellas. Your brand and message imprinted on these will get  word of mouth publicity in the process.  The quality of print will not undergo any deterioration even after prolonged use and will stay as vibrant as new. Whether you are a game of classic monochrome designs in black and white or breathtaking full color images, dye sublimation will make your creative ideas come alive easily.